I use my journals to work out ideas and test visual language. I love the Moleskines for their sense of intimacy and the unusual ways the papers respond to different media. The lighter-weight paper takes colored pencil like fine parchment, and the heavier paper, when scuffed up a bit, takes water media and transfer prints beautifully with very little warping. Sometimes if I am struggling with an idea things happen in a sequential format and a small scale that would never occur to me when working large.
Each series below links to a gallery for you to explore.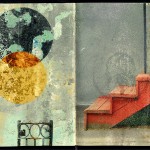 This journal began on a photography trip to Tacoma, home of some of the best industrial landscapes in the West. The journal evolved into an exploration of texture and visual language, using photography, collage and transfer print techniques.
On a blustery November day at the bus stop, I fell in love with The Walking Man. This journal explores the space of the street as the traveler passes through: the anonymity, the search for navigational clues, and the roar and the quiet beneath the sound of traffic. It looks at the graphic language of command and how it layers over the other less obvious language embedded in surface. In a broader sense it considers "wayfinding" as the language of journey itself. Photography, transfer print, paint and collage.