This new abstract work goes back in time to the decade I spent studying formal calligraphy and sumi painting within the Japanese and Chinese calligraphic traditions. These pieces are intuitive, and often minimalist, allowing the subtle life of surface and ink to open doors to landscape and dreaming. I begin with loose improvisations with black ink on paper. I then digitally layer and compose, seeing each layer of markings as a "plate" to be inked in color or subtly tinted. A portion of the work is then produced as limited edition prints. My process is built to allow collaboration with architects, interior designers and individual collectors. In many cases the colors, scale and substrate of an image can be customized for a specific environment.
Each series below links to a gallery for you to explore.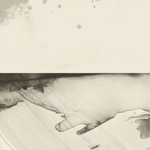 Subtle works in black and white or muted color based on the forms of the Japanese Kakemono, (hanging scrolls) and kimonos.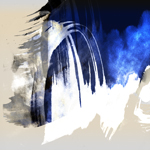 Ink Painting Abstractions
I call this body of work Jiyū, or "Freedom" in Japanese. In this series the rules of legibility are long gone, and there are no recognizable words. The language is pure mark making and abstract gesture. The process is wildly experimental and joyful, influenced by music.