My work in collage and mixed media frequently incorporates photography. This new section shows my work as a photographer on a variety of themes, beginning with a section on construction sites.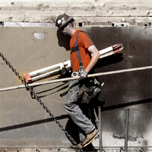 A series of photographs reflecting my longtime fascination with monumental structure, excavation, history, surface and the ambiguous terrain between ruin and renewal.
The work here incorporates the influence of the theory of wabi-sabi: nothing lasts, nothing is finished and nothing is perfect. And within this recognition lies a very particular kind of beauty. Purely documentary photographs form the basis for much of my work in the series Construction/Reconstruction although I often obscure or alter them beyond recognition in the process of collage. The images in this new portfolio stand alone as photographs, a record of a singular time and place. Archival pigment prints are available in a range of sizes.