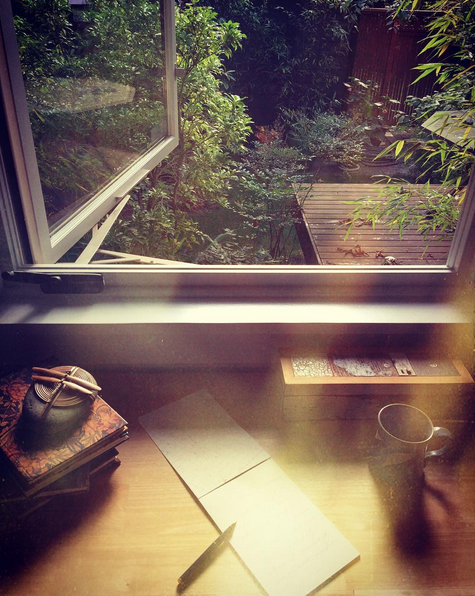 With wild mind, you live with the whole sky. It's very different from the idea of a muse, which is something outside yourself that appears and magically helps you.–Natalie Goldberg
I am a multi-disciplinary artist, and I find that writing and image making are part of the same river, equal currents flowing between each other in the creative process. Words and images flood seemingly randomly through my life and land on the blackboard, in notebooks and pressed on the very dense altar of the refrigerator door, waiting for the organizing principle to emerge. I never know which side of my brain will spark connections and set in motion a series of work or an idea. I spent many years studying writing based on Natalie Goldberg's wonderful books and inspiration and working in the direction of fiction. These days I find myself leaning towards the essay and the prose poem. This blog is a place where I share my life-long knitting project of words, pictures, culture, connections and recollection. I work in many media, but am currently focused on photography, drawing, printmaking and collage. Here I post recent work and ideas in progress as well as art news and notices of events and shows. To keep up on the latest please subscribe at this link, where  you may customize your preferences for newsletter, blog or both.
I love to meet creative people, and my blog is also a vehicle for artist interviews and reviews of other peoples' work. The practice of art can be very solitary, and one of my primary goals is to connect people of similar interests who might be great neighbors if they were only across the alley instead of a freeway or a continent apart. The web allows us to create our own zipcode, filled with prayer flags and toppled picket fences, crossable in a second.
In the sidebar under Artist Studio Visits you will find the occasional interview with contemplative artists coming out of the Buddhist and other spiritual traditions. I have had a meditation practice for many years, and my own roots are in the Northwest mystic tradition, strongly influenced by Buddhist art. We live in an age marked by ideological warfare and spiritual shrinkage. I am interested in the opposite: in a world of generosity, inquiry and contemplative depth.