I am living for awhile in temporary quarters between the Collision Center and the Aurora St. Vincent de Paul's. My white box in the sky is surrounded by several hundred other white boxes neatly stacked and facing each other's allotted squares of white venetian blinds. This is called an "apartment complex," and after documenting the construction of dozens of such projects all over the city it is curious to actually live in one. I looked for several months for a place to stay while my house and studio are under renovation. All politics is personal, and all art is in some way political, in that creative obsessions inevitably run into the economic realities and constructs of power behind them.
For instance, take the economic fact that the smallest of those new boxes in the sky, the ones called "studios" start at $1,300 per month and go up as high as $2,800. And some of them are far smaller than 400 square feet, (even, in the case of apodments, as small as 150 square feet) and may have neither kitchen or bath, because what is a coffee shop for anyway? Just plug in your laptop and stay awhile, wash your hair in the sink at Starbucks if the communal bathroom at Green Bamboo Eco-Pod No. 6 is busy. Scaling down from these heights to something within the range of a temporarily displaced artist, it was hugely challenging to find an apartment that did not have mold, ants, a feral manager, reviews that mentioned hypodermic needles behind the dishwasher, or doors so warped that they wouldn't shut, much less lock. Then there was the bedroom door with the boot-hole still in it. "Will this be on the pre-existing damage list?" I asked. "Yes, thank goodness that anger-management problem is gone," the manager said, not suggesting that the door would be replaced. As I banged my head on the eye-level chandelier I kept going, and landed in the benign set of cubes where I currently reside, in what is turning out to be an unsettling experiment in identity.
If you work as an artist long enough you will accumulate oceans of stuff. You can drown. It is good sometimes to step away and reconsider. Perhaps one's ideas of beauty are at fault. Perhaps there is no need for color or iconography or beloved objects. The walls are not yours, and they shall remain without a single nail. Forget about your known circle. Perhaps you need to meet a different person in the elevator three times a day. "Do you hear my refrigerator?" the young man asks. "People always tell me they can hear my refrigerator." "No," you say, pressing the button to go four floors down and two blocks over to the trash compactor, "I don't think I hear yours but I hear three others and I unplug mine to meditate in the morning."
You had never considered the power of refrigerator generators to create community, but this opens a new door. All things bleak become interesting. Take the large pit beneath the window that may or may not become a swimming pool. Its gray buckets are like persimmons, perfectly placed against a gray background (if you imagine them orange,) and the blue tarp roped across it makes the sounds of the sea as it billows and ripples in every kind of weather. On waking you can imagine steamer ships passing on the far windowsill, and maybe a European boy in knickers scuffs the sand and holds his hat against the wind, with ribbons blowing gaily behind him.
Also, there are always astonishing walls, blank or not, and light writes its poems there, throughout the day and night.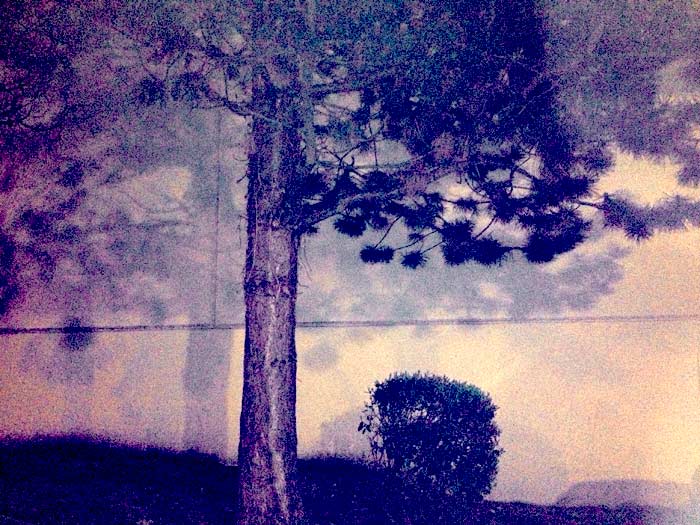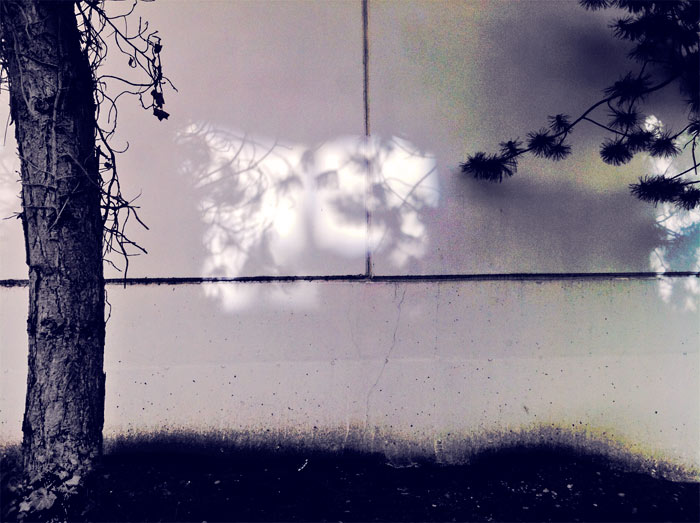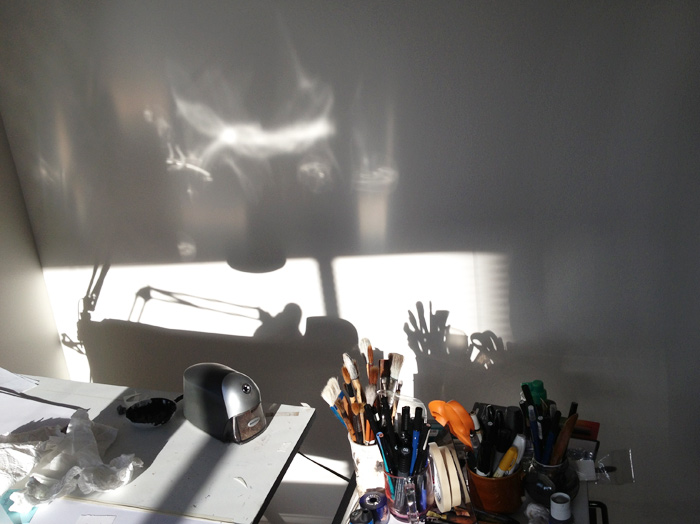 On the second week I went for a run along the new interurban trial. Underneath, plum blossoms smudged pink on tar. Trucks without wheels, fences without posts, everywhere rust, and every spare surface signed by a stranger late at night. Along the backside of the cemetery coiled wire followed the top of Olmstead wrought iron, and a man bicycled slowly towards me, pulling a wagon. His eyebrows had been so perpetually raised in surprise that they had stayed there, like a mountain range, and his face below was impenetrable, mapped by roads with no name. He looked at me long, appraising, and I shivered, and ran faster, towards the young women in pink walking their dogs. An inflatable clown smiled at me from a window in the spare parts warehouse, the anvil clouds of morning flattened into dirty cotton, and I was for a long time the only person on the trail.
In this state I came back and ran into the elevator and up three flights and when I raised the blinds of my new windows I realized just how comforting and powerful it is to have a triangle on a square. This complex was built with a flat roof, but triangles have been attached here and there, to give an impression of "house." The sun rises there, just between the flat and the angle. I just kept looking at it, the miracle of structure and shape.
The next day I gave in and put tulips in a vase. Each day, only what is necessary. Start with nothing, start with empty, and begin again. I may become a believer after all.