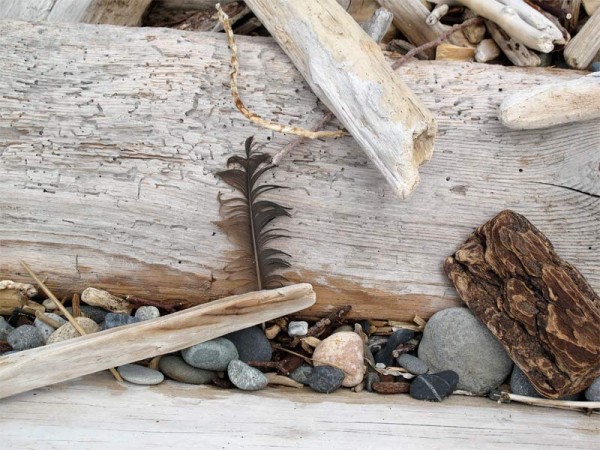 "The point is, not to resist the flow. You go up when you're supposed to go up and down when you're supposed to go down. When you're supposed to go up, find the highest tower and climb to the top. When you're supposed to go down, find the deepest well and go down to the bottom. When there's no flow, stay still. If you resist the flow, everything dries up. If everything dries up, the world is darkness."
                      ― Haruki Murakami, The Wind-Up Bird Chronicle
I think there is no better place for me to understand equanimity than the slender borderline between land and sea. To walk the shore on a gray day, with a warm wind in my hair and clouds low on the horizon, to become completely lost in the large rocks and the pebbles and the sand, finer and finer gradations of gray and brown and white and coral that the sea tosses up and time burnishes. It's the middle path. No chasing after sunsets or epiphanies, no ecstatic longing or grasping at beauty that will fade, because all of this is already faded. I can walk for hours and hours looking down and finding the horizon line and the cloud in every stone.
Neutral. Muse of gray: Leo Adams. The brilliant Yakima artist is my mentor these days, a warm pebble always in my pocket and guiding me as I look to form the aesthetic of a new studio and living space. It seems to me lately that the design world is divided into those who know of Leo Adams and those who don't. Once you do, you can't go back: gray and brown will never be the same, and you will look at interior design and painting with completely new eyes. His work blends influences of Asia with the eastern Washington landscape and a Native American materiality and sense of place. It is part of the subtle and potent lineage of the Northwest School, of Mark Tobey, Morris Graves, Richard Gilkey and others who embraced the tonality of this misty overcast latitude and found kinship with the artistic traditions of China, Korea and Japan.
I first saw Adams' work at the home of a collector in Tieton.  Across from a window onto yellow grasses and rolling orchards hung a screen that looked Asian, but not, like sumi, but not, flat yet dimensional, and put together with the most subtle palette of grays I had ever seen. I spent a summer wondering how this work was made, who had made it, what kind of mind could see space the way this artist did. I then discovered that here and there friends of mine knew Adams, and that his way of seeing had influenced northwest design in every way, for decades. Recently he has received quite a bit of attention by way of an exquisite monograph published by Marquand books. It is now a prized possession (bible!). I hope someday to see his home and studio in person, but in the meantime this lovely documentary from KCTS takes me there, as well as through a retrospective of his paintings. If nothing else, becoming acquainted with Leo Adams will mean you never again apologize for dragging sticks and rocks into the house.
I returned home from my recent day along the shore with pockets full stones and a quiet(er) mind.  Perhaps this piece is a kind of cloud chart. I'll need to come up with a new taxonomy to explain this version of the atmosphere. Cumulus Equanimous, that might be a start.