I have just completed several of the final new images for the upcoming "Excavations" show at Zeitgeist. One portion of the show will be a series of 10″ x 10″ transfer prints devoted to the ongoing saga of the Alaska Way viaduct. The images are created from my photographs of the viaduct layered with painted and drawn surfaces made in response. This is a place filled with industrial strength beauty: loud, dirty, sometimes hazardous but always provoking.
I have been photographing the viaduct for at least 25 years, and this iconic structure is an enduring object of affliction. Many of the collages are based on recent cellphone photos taken from a moving car. This is the glimpse, the rapture of the vista, the overstory. But this one, the most recent piece, uses as its backdrop an analog photograph I took over 20 years ago when the train tunnel could still be seen. I stood for hours one long gilded afternoon waiting for trains, and documented the graffiti as it changed color in the refracted sunlight of the bay. Now that tunnel is invisible, walled in behind condominiums. This is the understory. As with all of the images in this series reality has been subtly collaged and reconstructed.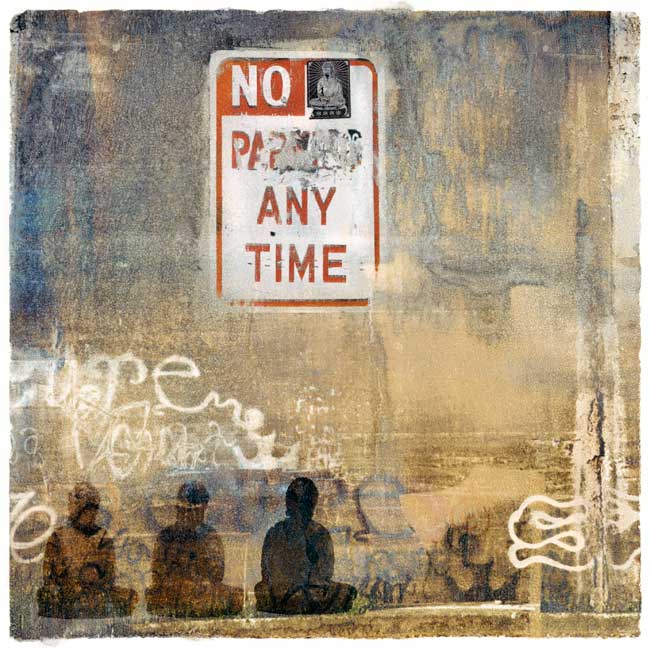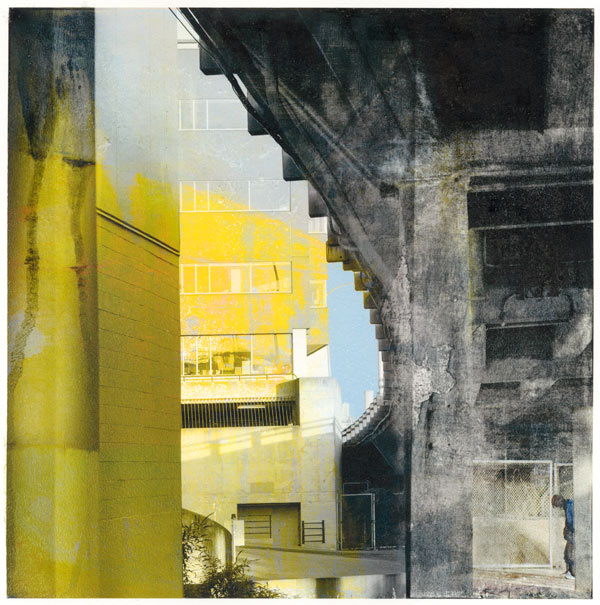 Meanwhile, although the cracks are getting larger we still drive. Best view of the sky anywhere: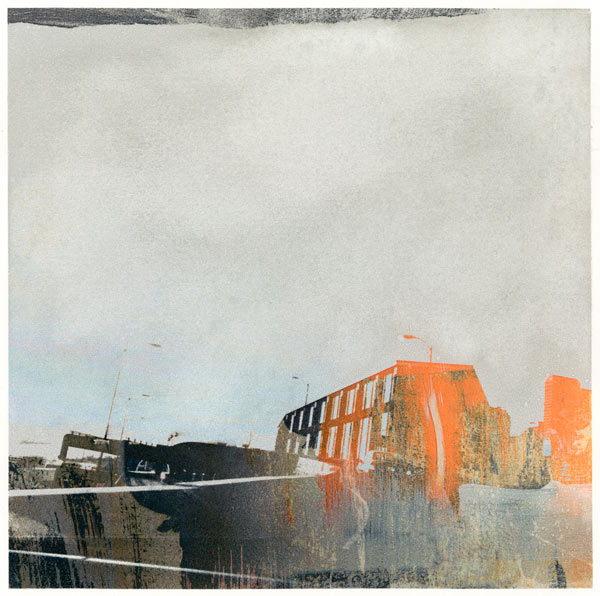 Each transfer print originates from the same image, but the transfer process creates a unique monoprint each time, with different surface qualities and subtle variations in color. I often make only one print of an image, but in some cases the variations possible are too interesting to pass up. This particular print has several variants, as I experimented with the grain of the ink and application of the transfer medium. In this version I "wiped" the paper as I would a zinc plate, to get the organic washed quality of the sky.
Mark your calendar for the opening, First Thursday April 3rd, 6-8 at Zeitgeist. A reminder will come closer to the date.