Although I am a avid gardener, the kind of gardener who intentionally plants things with an eye to color and texture and contrast and who pulls out weeds, I have to confess that my very favorite flower in the world is the dandelion. I have been trying to capture dandelions since I was about three, when I was first photographed eating them, which I will say was much less satisfying than blowing them and watching the seeds fly up into the air.
In July I took some photographs of a particularly expressive weed against the crumbling wall of a parking lot, and the image has been murmuring to me ever since. It was an exquisite morning spent in the company of my mother and old books. Somehow the grainy pages of her 1930's Latin primer and a distant memory of a print by Albrecht Dürer came together in this image.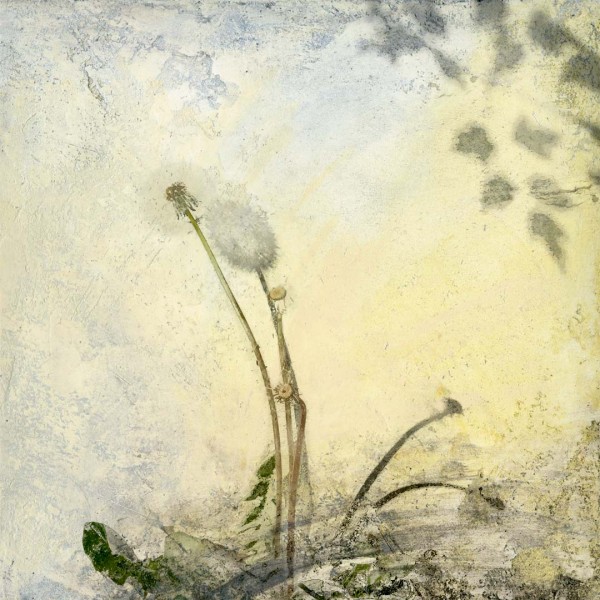 My scale with the current Almanac series of botanical work is intimate. This print is 8″ square. My intention is to make a second image in which the photographic elements are directly transferred into the plaster which forms the background. It has been a very challenging piece, composed of at least a dozen "plates" ie. Photoshop layers, on which I have drawn and erased and shaded with my digital tools. It is slightly crazy to try to convey incandescence with low contrast, but everything about the original moment when I saw this beloved weed was about innocence and light and the uncapturable haze of memory—which is a quiet place. Perhaps I should let Robert Creeley explain, from his poem "The Immoral Proposition":
If quietly and like another time there
is the passage of an unexpected thing.
To look at it is more
than it was.