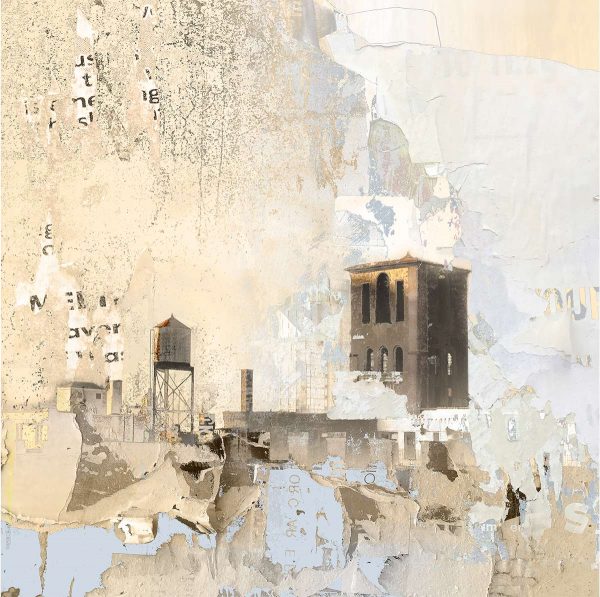 The Water Tower Project
It might have been enough to face off with a pandemic. But the center does not hold, "all that is solid melts into air," and across the world cities are aflame with protest and an expanding movement for social justice. As structures of order crumble, as statues are de-platformed and sprayed with graffiti, as the jails and hospitals overflow, we huddle in isolation, transfixed by news that is alternately exhilarating and disturbing. Can you blame a person for looking for something to hang onto?
In the chaotic urban environment, the water tower shines for me as a beacon. I think of it as the German Shepherd of architectural structures: noble, tastefully proportioned and faithful to its purpose, which is to gather the heavens in a bucket and gift it back to us glass by glass. It sits high atop the city, merged at times with the clouds, and calling down from the heavens a very practical benediction. It is a usually hand crafted vessel, built from wood, using a method little changed from the 1800's. Water towers are rarely defaced by graffiti, but any totem of neutrality invites our projections.
The Water Tower Project looks at this iconic structure from many different perspectives. In some cases I have located the tower in an imaginary landscape, complete with horizon line. At other times it serves as an emotional vessel to express the clamor and heartbreak of the streets. I am offering this series through the #ArtistSupportPledge, which is a global initiative to broaden the circle of art appreciators and create a circle of generosity. The first two prints in each edition of 35 are priced at $150, half the usual price of $300. When I have earned $1,000 from the sales I will then purchase the work of another artist for up to $200. At the end of this post you will find the collection of 16 gathered as a jpg that may be downloaded for reference. In the week since I have been posting these to social media I have sold three, so if you are interested in the PandemicPrice you may want to move quickly. The blog software allows me to show images at their best quality, so I will post the entire set here (click below the fold) for the time being rather than my portfolio. I am offering these through direct sales rather than through my shop, so please reach me through email if you are interested.
Each Water Tower has a story, and if you are interested in the narratives I suggest following along on Instagram.