This December I really wanted to get away and feel warm, get some sun on my face and my soul and make art in a different environment. I found the ideal retreat at Casa de los Artistas about half an hour south of Puerto Vallarta in Boca de Tomatlan  I signed on for the quiet week between Christmas and New Years, and found myself with the rare luxury of the whole Casa studio to myself, under the benign tutelage of Bob Masla, proprietor, teacher and painter extraordinaire.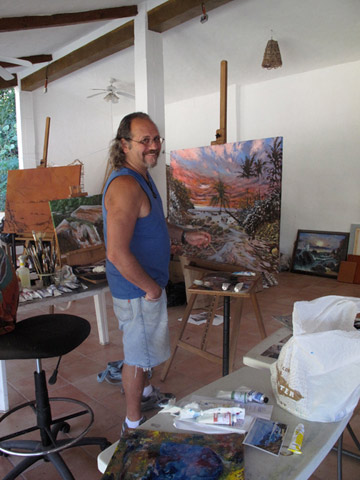 Bob and his family have built a wonderful three story retreat in the middle of the fishing village of Boca. A river runs directly below and outside the gate. As the river is the main highway, with two other streets on either side, you have the experience of being part of the village on a 24 hour basis, starting with the roosters and church bells and ending with the moon and the surf.
My room had its own balcony overlooking the river under the protective canopy of a huge Amapa tree.  I could sit here and watch the sun rise over the hills and follow the fishing boats' passage to the sea and feel perfectly content… although I did in fact wander upstairs to the 1,000 square foot studio overlooking the river and paint every day for a week. I worked in watercolor and Bob painted in oils, but the difference in our two media had no bearing on the quality of his advice. Whatever he had to say about my various projects proved unfailingly useful and insightful from a technical standpoint, and he is a natural teacher in that more intangible way of simply knowing how to make you feel encouraged.
The food was exceptional, whether it was the home-cooked gourmet Mexican cuisine by Ruby at the Casa or "dining out" at the lovely and informal palapa across the river (just take your flipflops).  There I would have fish or shrimp caught that day, finished off by home grown Ricia, a brew smokier and smoother than tequila and made by the proprietor of the palapa from his own agave. I remain convinced that Ricia is somehow…medicinal, even though it is reportedly sold at Mexican hardware stores.
I would love to return and encourage anyone thinking of taking an artist/spirit retreat to Mexico to consider Casa de los Artistas. Bob and his family are gracious and welcoming, and the house is exquisite.  Retreats are held on a regular basis on a range of topics,  from painting to Mexican cooking to psychotherapy and spirituality, and guest teachers are welcomed. Here is a page from my journal begun while I was there: