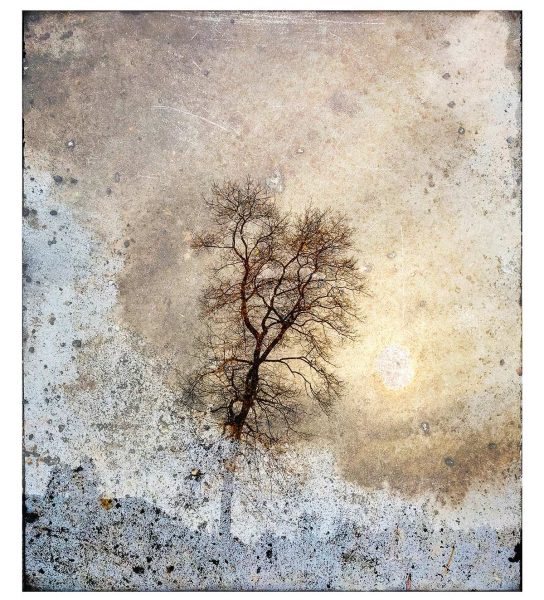 Greetings in the new year! As I write this the rain has lifted in spite of the emoticon insisting otherwise on my phone. Outside the studio window the trees are shimmering, in delicate shades of umber and sap. I will be going for my New Year's walk soon, but I want first to send out this letter of thanks to friends and collectors for your support of my work over this past year. Although my attention was often elsewhere, preoccupied with family and personal loss, this turned out to be the best year I have ever had in art. I have never felt more grateful for the opportunities of this path, and am filling notebooks with new ideas that keep me up until the wee hours.
The new year brings some shifts in focus and refinements of direction. Although I will continue to do prints, in multiple ongoing themes ranging from natural landscapes to architecture and industry, I am also returning to drawing and the roots of contemplative art. For much of my life calligraphy was my daily practice and also my livelihood. The practice of 26 simple forms kept me clear and laser focused: it is not possible to do calligraphy without being in the moment. Photography is also an art of the moment, and of awareness, but with the introduction of digital methods and the printmaking processes it is also mind-bendingly technical. One can very quickly forget to breathe, and accordingly shut off the pathways to seeing that come only through working directly with one's hands.
Last month I officially retired from my career in design to focus full time on art. Letters will continue to appear, but in new forms, not as corporate identities or book titles, but as visual art and as essays. Honoring the path I took in lettering and all that it taught me, I have returned to the morning practices of handwriting and drawing as meditation, which opens up a whole new-old world of contour, shape, representation, chiaroscuro. I am sharing my process on Instagram and find the community there to be wonderfully supportive (including in bringing me new tools, like the marvelous 3-point ball point pen from renowned artist Nicolas Sanchez.) Instagram is my laboratory for bringing worlds together: narrative, poetry, photography, community and contemplation. From the act of making process visible my work takes leaps it would not think of in the privacy of my own studio.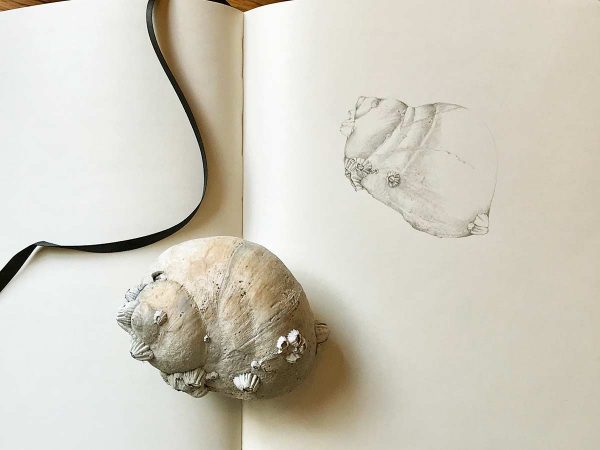 So it turns out ballpoint pen was just a starter drug to pencil. I have never been able to draw happily with a pencil and suddenly here it is and I love it, thank you hb graphite and mornings listening to jazz to keep the thinking mind quiet. To draw is to find the horizon. A shell is a vast landscape with one curved edge and beyond it is the sea and the sun and the moon. To draw a moon shell is to sneak up on it. I always love best the white space and for me I go on tiptoes with very soft feet before committing to the form.
If you are used to seeing architecture here and wondering about consistency, don't for one minute be fooled…. A shell is a house by any other name.
My limited edition prints can be seen in a beautiful ongoing display now at Museo Gallery on Whidbey Island, and in a new venture out of Paris that I will share more about as it develops. I am offering a range of new prints in my shop available to browse online or in studio visits. The two forest images here are from a series based on winter walks. I love taking digital methods and transforming them through a classic aesthetic. I approach the making of a digital photographic print as I used to approach darkroom printing, dodging and burning, proofing, squinting, and always keeping in the foreground a sense of printerlyness and paper. The forest series is a vestige of an older world, when there were Currier and Ives plates lined up on the mantel, and the forest was eternal. This series, like the Traveler's Suite, is intimate scale, 12 x 16 on a 17 x 22 sheet.
I wish you a beautiful beginning to the new decade. May the weather emoticon work with us more often than not, and bring at least as much light as dark. And may we all look up and see the sky.