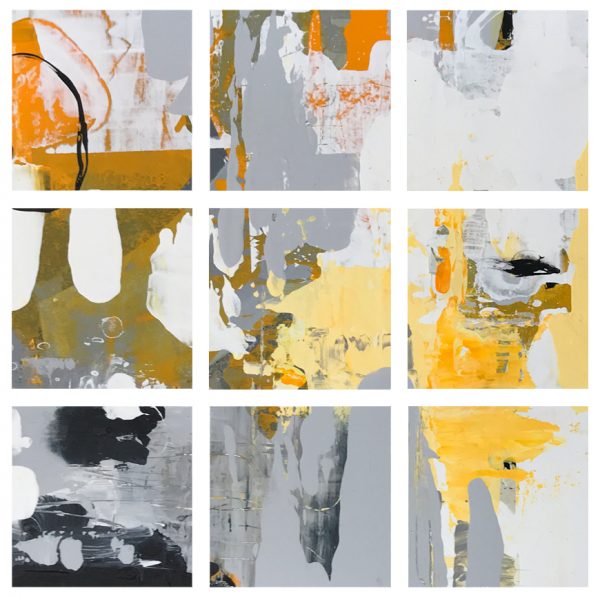 As an artist and a designer I have been involved in blogging and social media for many years. I coach creative individuals and businesses in how to use social media, and Instagram is the platform I recommend most. I have found that many artists, particularly older ones, remain on the sidelines unsure if the distraction will be worth the effort and time. Although 60% of Instagram users are between 18-24, the percentages drop to 18% for 50-64 year olds, and only 8% of those over 65 use the app. Given that many artists reach maturity and do their best work at well over 50, this is a startling waste of one of the best marketing platforms available to artists today.
There is a common perception that Instagram is a shallow and narcissistic platform devoted to selfies, lifestyle, and Beyonce's latest platinum baby bump. (True!) But dig deeper and type a few key hashtags into Instagram search: #abstractart (10.3 million posts) or #artgallery (9.3 million) or #painting (56.5 million). There are serious followers of art online: 79% of art buyers under 35 years old use Instagram to search for new artists. According to the Hiscox report 4 in 10 art buyers bought online in the last 12 months, in a market valued at an estimated 4.22 billion. If you are aware that the older generation of art collectors is, um – dying? – these statistics might get your attention.
The two basic strategies of social media for creatives
When I first started looking at Instagram I had my own doubts. I was dazzled by the caliber of art illuminated on my phone, and overwhelmed by the quantity. Was it true that Instagram could "make" your career? What if nobody followed you? Did you have to be young, beautiful, rich or pierced in strange places? Could you be a quiet introvert? I watched from afar for a long time, trying to understand what made this platform work.
In studying a wide spectrum of artists and creatives it became clear to me that Instagram, like other social media, follows two main strategies, paths that I call Audience and Witness.
The path of Audience is driven by entertainment value and puts the viewer in the driver's seat: it aims to please. If you are following the strategies of Audience you respond to what the audience likes by doing more of it, and giving them what they want. "You," in a sense, follow "them." The path of Witness is related but different. Yes, there are viewers, but they are secondary to you, the maker. The viewers are there to fall in love with your journey, to learn from and to be present to you. They are your peers and your community. They truly are following you and not the other way around.
In social media both paths are important. Witness and Audience intersect in many places, and each has elements of the other. But it is important to know the difference between them and to know what you are doing when you are doing it. This article is an in-depth look at the important principles behind social media marketing for artists, with a roadmap for how to use them, specifically on Instagram. First, a look at a popular buzzword.
What does it mean for an artist to have an Instagram "brand?"
It's a doctrine of social media marketing that you need to be on Instagram to build and promote your "brand."  An online industry has spring up to teach you how to harvest attention, get followers and (theoretically) Sell Your Work and Become Famous. "Branding" is a word that has evolved in popular usage far from its origins in Madison Avenue. It is often equated with "logo" or "identity" in terms of a unique identifying trademark. But its original meaning as used in 1960's advertising is more complex. David Ogilvy's famous definition is "The intangible sum of a product's attributes." In other words, what you say, how you say it, and what people associate with you. More than a recognizable symbol or name, it is how you are perceived. How does this translate into the highly visual platform of Instagram? [Read more…]