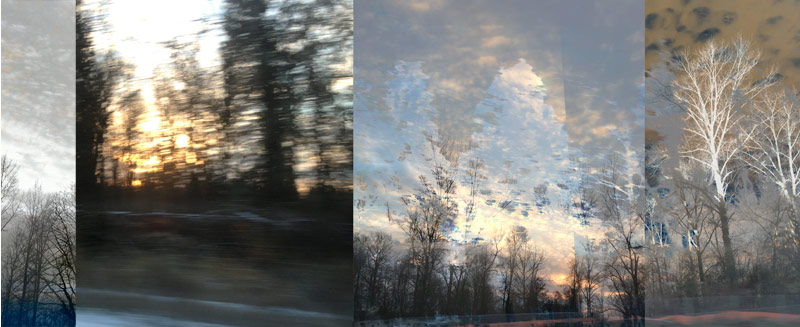 "The essence of spiritual practice is remembrance, whether it is remembering to come back  to  the present moment or recalling the truths of impermanence."
— Andrew Holecek, Tricycle Magazine, Winter 2013
   "Don't talk, I can't hear myself see." –Jerry Saltz
I first visited Cloud Mountain 23 years ago for a seven day silent retreat. At that time a year of insomnia and grief in the wake of my father's death had taken me to the brink of despair. My view of the world had become dangerously distorted, and if I wanted to come back to my life I needed to take my meditation practice to a different level and rewire my brain. This was before the idea of negativity bias had become commonly accepted in science and spiritual practice, and so in the first days of retreat I spent a lot of time beating myself up for my mind's inexorable turning towards darkness. By the end of the seven days I had turned enough times to face the other direction that I could now see it existed. The searing images that appear in states of absorption may be only seconds in duration, yet they can powerfully and permanently alter the brain. As well, the steady accrual of mindfulness practice.
I will never forget the feeling of my hands on the steering wheel as I prepared to drive away at the end of the retreat. Did I still know how to drive? I tested the the brake pedal and fiddled with the key. I would start slowly. As I rolled down the hill at three miles per hour I realized that my father was still dead, that a particular sadness was permanent and immutable, and that I was okay. My breathing remained comfortable and calm, and my eyelids didn't prickle. In that week nothing had changed in the facts of life, but my capacity to carry it had changed. I proceeded to drive directly onto a one-way road into a clear-cut. This is how it is: the world doesn't stop being itself while I'm being quiet.
Over the several decades since, I have become steadily more happy. Terrible things happen, but without the added burden of taking them personally. When I feel grief I feel myself gathered in a very big net with others. I also increasingly live by this truth:  "Know that joy is rarer, more difficult and beautiful than sadness." When I saw this quotation from Andre Gide in the description of Cloud Mountain's December "Discovering Joy" retreat with Lila Kate Wheeler I signed on. Happiness and joy take vigilance, and continual practice. What follows are my notes from memory and a few photographs, taken after the formal retreat had ended.