Well this is exciting! It is a rare and wonderful thing to have work reviewed in a real live paper newspaper. Check out Michael Upchurch's piece here. It is good to see Norman Lundin's Prographica get the appreciation it deserves, and I am pleased to be mentioned. Here are two of the pieces he discusses, from my Construction/Reconstruction series. The show continues through March 9th, open Wednesday – Saturday 11-5.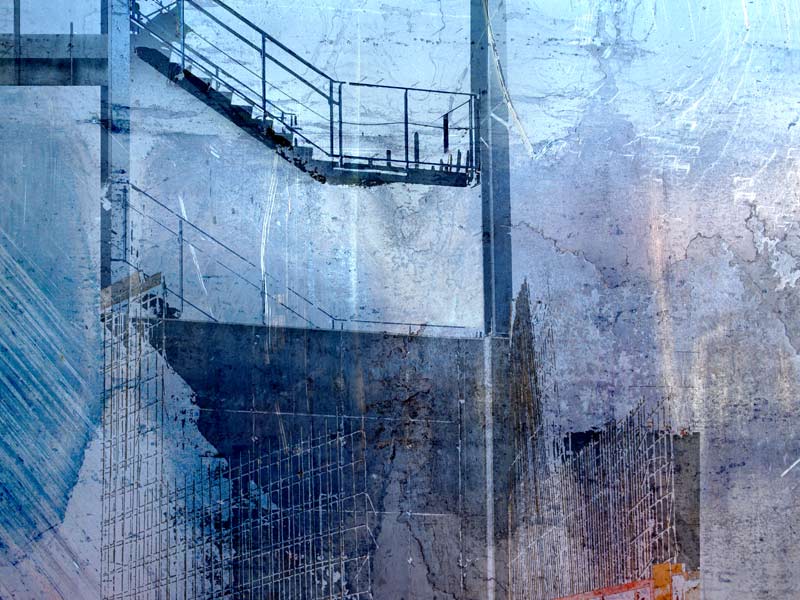 Postscript: I had some time today to visit Dianne Kornberg's work online. Her pieces in "Bleak Beauty" are all gelatin silver print photography, but she has a an entirely different body of work on her website. It is intense, adventurous, and technically brilliant. I love her printmakerly sense of surface and color. Take a look at Dianne Kornberg's body of work here.
I also am very drawn to Steve Costie's fine graphite drawings and have been enjoying seeing his work in exhibits around town. His work is very rigorous and at the same time poetic within its constraints. His sensibility and interest in structure feels very congruent with my own. His work inspires me to keep following the architectural muse.
Additional artist website links: Sandow Birk, David Bailin. Both of these artists draw like angels, with a deep and highly skilled apocalyptic vision. Very real, very reflective of the darker sides of the world today.