Today's post introduces work from a new series called Sweet Old World. The title comes from a Lucinda Williams song which I listened to for years until the tape sputtered out. Its bittersweet chord progressions operate as a homeopathic tincture for melancholy, virus panic, and stock market crash and immediately put things in perspective.
In going through the family archives this winter I found a small cache of silver gelatin photographs from the late 1800's, and I have been living with them for months, buttering my toast under the watchful eye of ladies in white, their starched gowns tinted pale shades of sepia. I have always loved the mysterious blurs and emulsion fog of Tintype and other early photographic techniques. I began my work as a printmaker in film photography and etching on copper and zinc. As I have put these new images together it is through the lens of the past and the aesthetic of an earlier time. The work is composed from my original photography, paint, and varieties of modern alchemy. It falls loosely into three categories: architecture, botanica and resonant objects. I will be developing the different bodies of work over time, while I also work on paintings.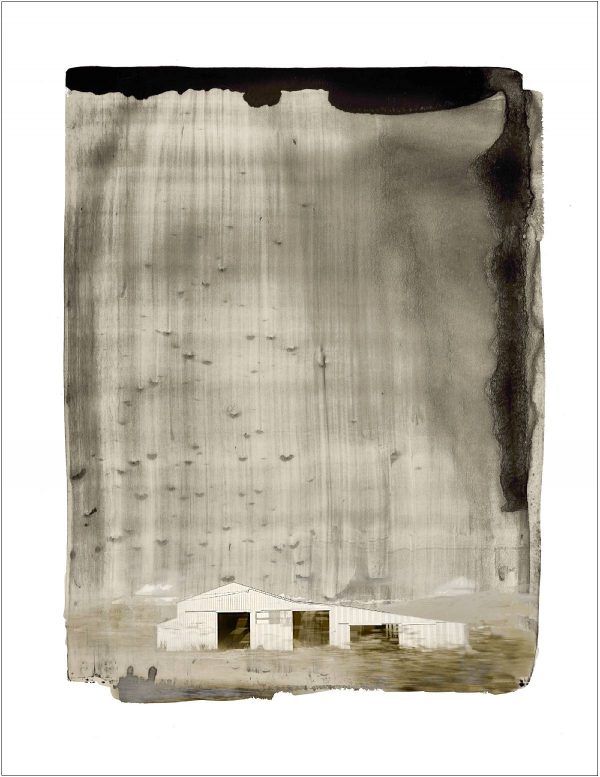 Farmstead, © Iskra Fine Art.  
Nostalgia was originally described as a "neurological disease of essentially demonic cause" by Johannes Hoffer, the Swiss doctor who coined the term in 1688. Military physicians speculated that its prevalence among Swiss mercenaries abroad was due to earlier damage to the soldiers' ear drums and brain cells by the unremitting clanging of cowbells in the Alps."