Today's post introduces work from a new series called Sweet Old World. The title comes from a Lucinda Williams song which I listened to for years until the tape sputtered out. Its bittersweet chord progressions operate as a homeopathic tincture for melancholy, virus panic, and stock market crash and immediately put things in perspective.
In going through the family archives this winter I found a small cache of silver gelatin photographs from the late 1800's, and I have been living with them for months, buttering my toast under the watchful eye of ladies in white, their starched gowns tinted pale shades of sepia. I have always loved the mysterious blurs and emulsion fog of Tintype and other early photographic techniques. I began my work as a printmaker in film photography and etching on copper and zinc. As I have put these new images together it is through the lens of the past and the aesthetic of an earlier time. The work is composed from my original photography, paint, and varieties of modern alchemy. It falls loosely into three categories: architecture, botanica and resonant objects. I will be developing the different bodies of work over time, while I also work on paintings.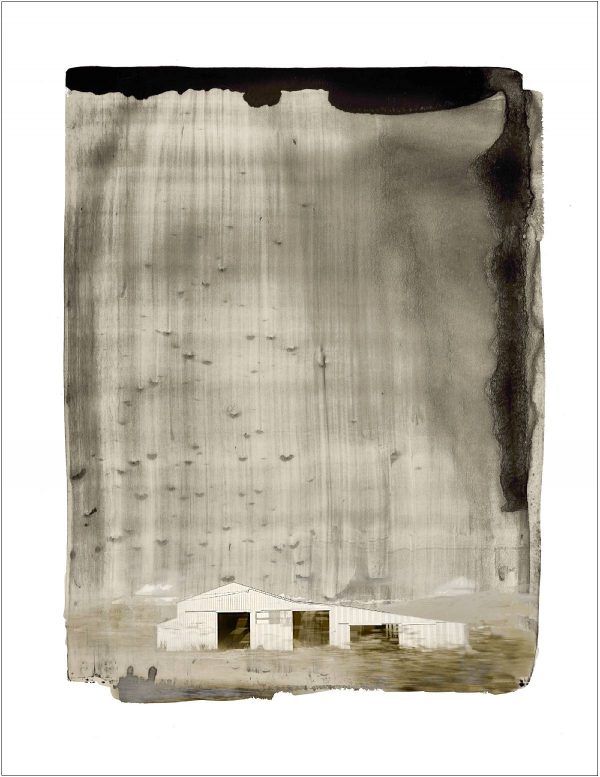 Farmstead, © Iskra Fine Art.  
Nostalgia was originally described as a "neurological disease of essentially demonic cause" by Johannes Hoffer, the Swiss doctor who coined the term in 1688. Military physicians speculated that its prevalence among Swiss mercenaries abroad was due to earlier damage to the soldiers' ear drums and brain cells by the unremitting clanging of cowbells in the Alps." 
There is a general aversion to the word "nostalgia" when it comes to judging the merits of contemporary art. Yet when I reflect on place and architecture and the pace of change today, its defense feels urgent. There is, of course, a fine and dangerous line between nostalgia and sentiment, and between vintage and suspect. A garden path let loose in a mall is a Thomas Kinkade painting, enhanced only by your addition of rose gold daisies in the foreground and a dimmer switch.
Where is that essential boundary between fine and dangerous? Where is it safe to go? I'd like to trust my own eyes and senses and the complexity of the modern filters through which the world streams. Am I on board with Donald Trump's mandate to Make Architecture Classical Again? Not quite. But with regard to that and his rabid defense of incandescent bulbs I'd have to say I'm leaning his way. I would take the New York Library or Suzzalo Library any day over the Rem Koolhause pigeon roost that Seattle was convinced should house its books. Certain forms of ornament and classical harmony evoke feelings I like to have. Stability, ease, harmony, balance. As I sit watching Antarctica melt on the science channel and wondering if I should wear a hazmat suit to go to the gym, is that so bad?? How would it feel to enter LA Fitness with my gym bag over my shoulder, passing between neo-Corinthian columns?
I am an urban hiker, and I found myself one afternoon wandering in the stately neighborhood of Queen Anne. There I came across a gate that transfixed me. The iron filigree shimmered in and out of shadow and the slant light of September. It felt like the first page of a timeless fairytale. I went back several times after my first walk to study it, and have made three prints expressing subtle aspects of the form.
A chair in an empty field immediately activates the space. Its arms offer embrace to the errant stranger. Come, it says, sit, gaze at the grass and the distant hill.  Gates are far more ambiguous. A gate says Enter/don't enter. Look, reach, allow yourself some longing, but don't touch what is within. It barricades and invites simultaneously. These pieces explore that dichotomy. They allow you to stay outside, or lift the latch and push, and see what happens when you cross the threshold.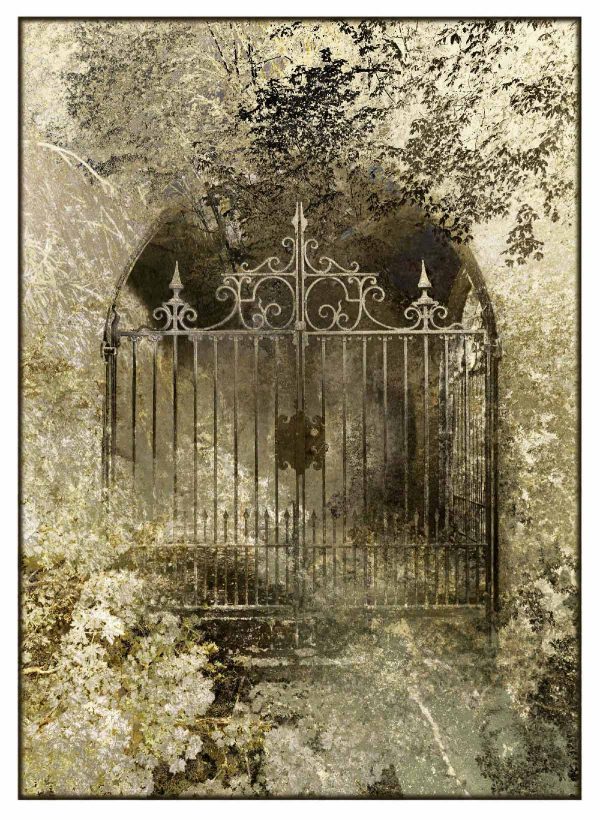 Il Cancello, © Iskra Fine Art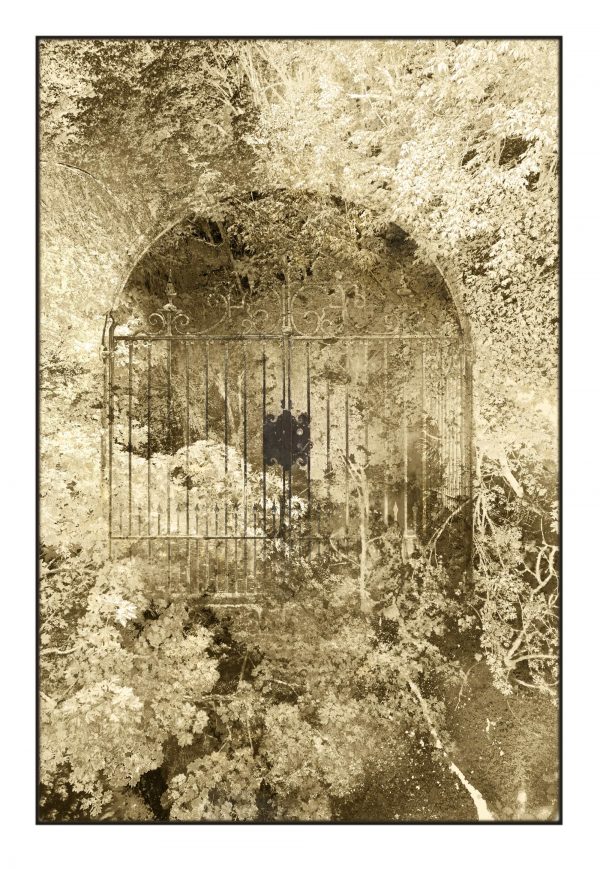 The Brocade Gate,© Iskra Fine Art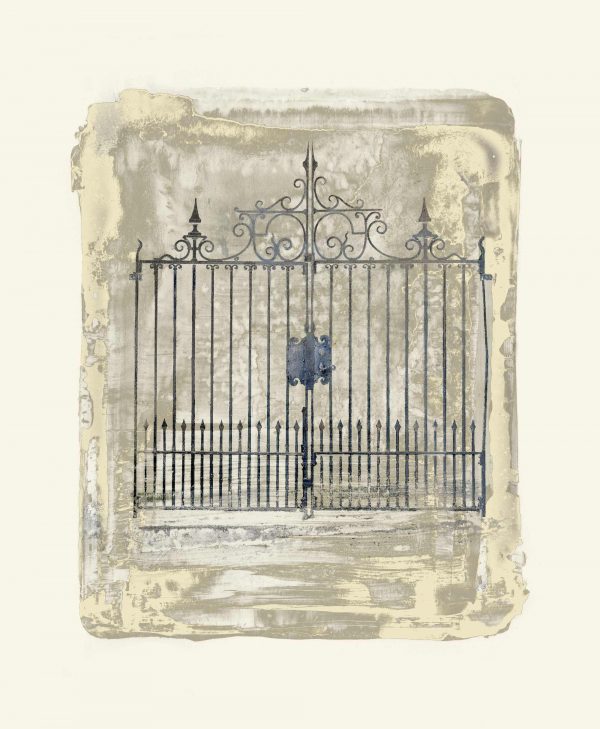 Il Cancello 2, © Iskra Fine Art
The most recent pieces completed harken back to the style of architectural prints of the 19th and 18th century. The churches of Seattle are vanishing, with startling speed. The University Christian Church came down in a few weeks, and two more in the University District will be gone within the year. I had only been in University Christian Church once years ago, yet the experience was one I have never forgotten. I went innocently, invited as a guest by a friend. As one of the "unchurched, spiritual but not religious" I did not go for the words of the service but for the companionship of my friend after a death in the family. Yet the music and the particular shapes of the Gothic revival architecture blindsided me with emotion. I was overwhelmed, and had to leave early, unwilling to be seen in such a state by strangers. For the next 30 years I drove past the church countless times. It slipped back into its place as part of the texture and place of the city landscape, taken for granted.
When I saw the white signs along 15th Avenue last fall I began to watch closely. I was able to visit with my camera at several pivotal points in the destruction of the church, and later spent the better part of a month developing ideas. The first print in this edition went to a new patron who attended the church and is very involved to the religious communities in Seattle. The image has been embraced by several members of the clergy and will be part of an upcoming public forum about the future of Seattle's churches. What happens when the most atheist city in the nation loses the physical structures of religion? This is happening throughout the city, from the Mount Calvary Christian Church in Seattle's Central District to the North End, as congregations dwindle, property values rise, and members see selling to developers their only recourse.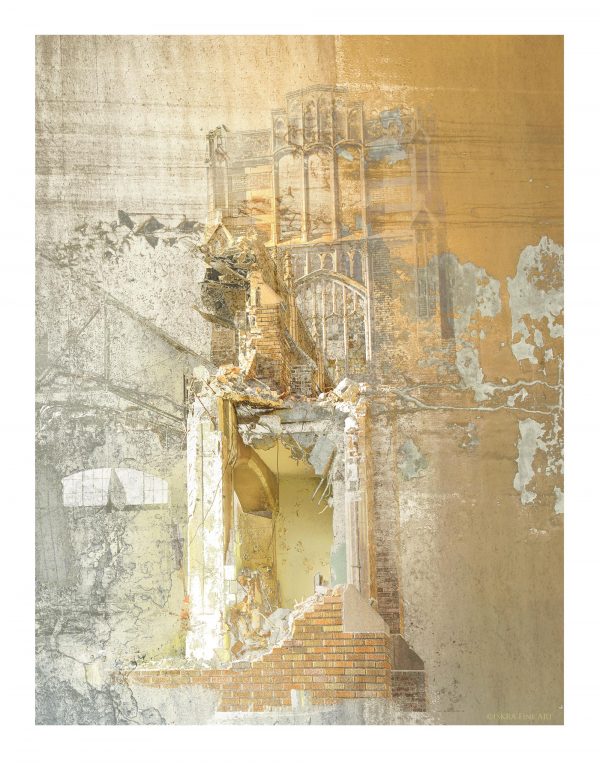 Church Ruin, © Iskra Fine Art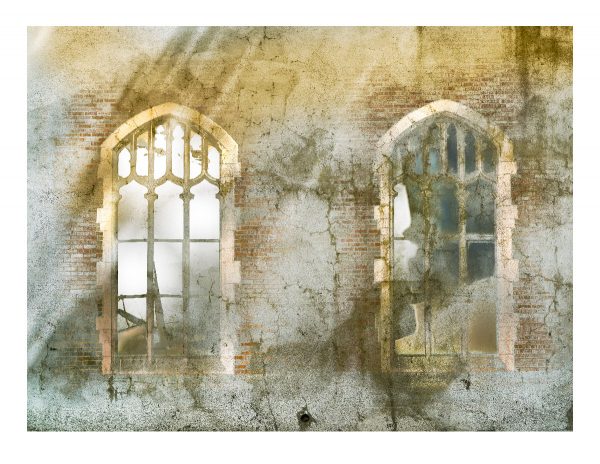 Deux Fenêtres (Two Windows),  ©Iskra Fine Art
Lastly, the first in a set of prints paying homage to Seattle's historic landmarks. The Smith Tower has been part of the city's imagination since it first rose up from First Avenue in 1914. Although it was for a time the tallest building outside of New York, it has long since been dwarfed in height, but never in charm. For more information on any of the prints here click on the image to be taken to my shop.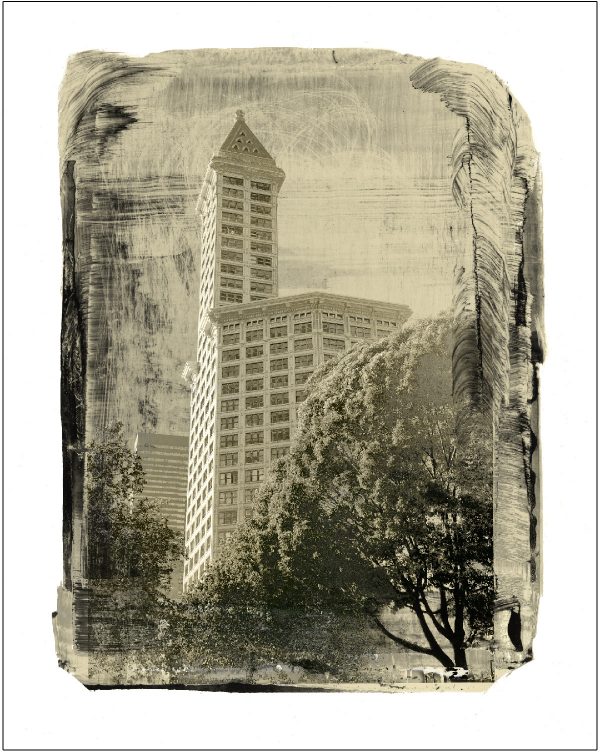 Wishing you all good health, calm and moments of beauty in the challenging months ahead.