"For poets of the ordinary nothing has to be something else to be more than what it is."— Anon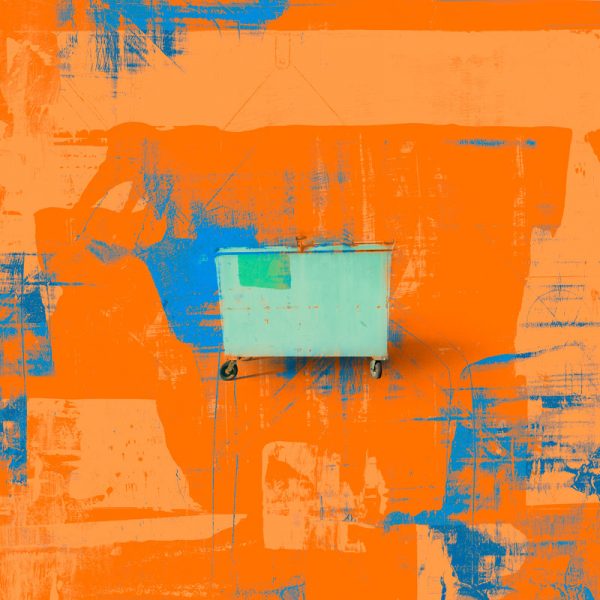 Contain. Hold. Spill. Accept. Refuse. ref-yoos. Dumpsters put a lid on what we can't bear to keep or smell or look at any longer, and give us the illusion that our national sin of consumer indulgence is not squandered, but instead made noble through the absolution of waste management. All that discarded packaging is repackaged and sits neatly on the street in a box. Occasionally the lid lifts at a provocative angle and stays there, held by chains and wheels in suspension and possibility. Crows come. Lunch is foraged, toasters reclaimed, and on certain days of the week someone finds a discarded mattress and takes a nap. Dumpsters have their own oratory. Although more punk rock than symphony, every city gets a daily concert of metal on metal and smashing glass, the rumble of trucks, and the quieter transcripts of disenfranchisement and identity that take place at night, each one overwriting the other with a soft hiss and the percussive shake of the little ball in its can of paint.
It has been in vogue for many years to work with "recycled" materials as a way of making a statement about the environment and putting the artist's powers of transformation on display. Also, working with discarded refuse has a lovely economy to it — it's free.
Much as I love that idea I look at mangled cardboard and I do not see fashion or furniture or assemblage, I see what's in front of me, which would be garbage. For the sake of art you can take things out of the dumpster or you can just take the dumpster itself.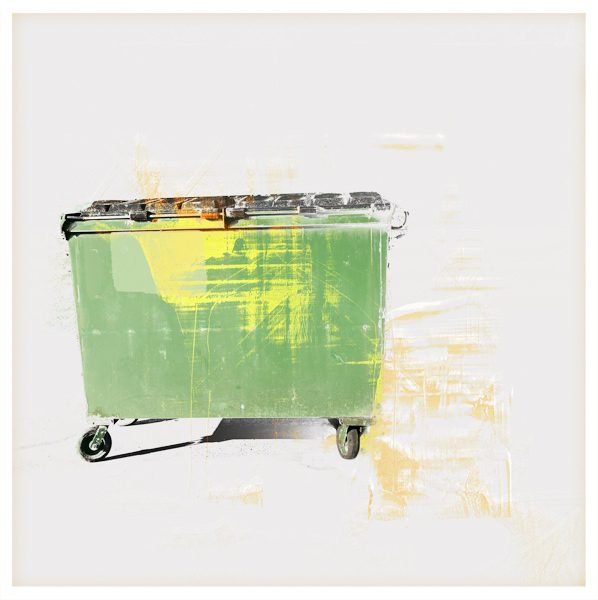 I have been making art about infrastructure and industry for many years, but it has only recently caught on in public discourse. As you may have noticed if you follow the state of the union unfolding on Twitter between midnight and 5 AM each day, infrastructure may be the only actual bipartisan mandate that everyone can agree on. Who doesn't love a bridge that doesn't fall down? Who doesn't need water mains? Who doesn't rely on the removal of garbage to make it possible to consume more and throw it away again? Yes, infrastructure has arrived. In conjunction with this national moment I proposed a show to SAM Gallery titled Industrial Strength. For the next six months I will be working towards a body of work that will open this coming September with my fellow SAM artists Kate Protage and Kellie Talbot. Three women, industrial strength art, steel-toed boots. Save the whole month, this will be amazing.
Although there will be diverse subjects in the upcoming show, for this week waste management has seized my imagination and it won't let go.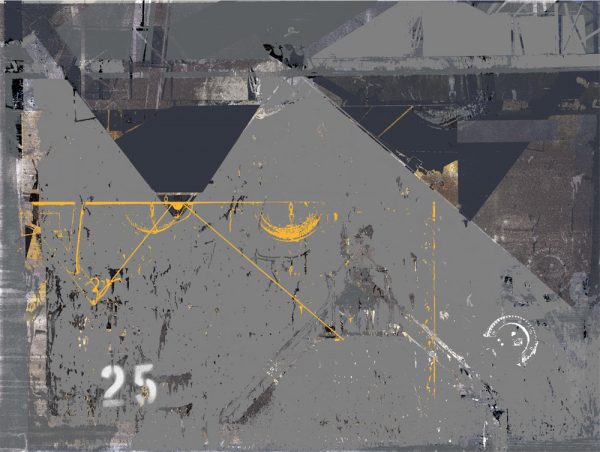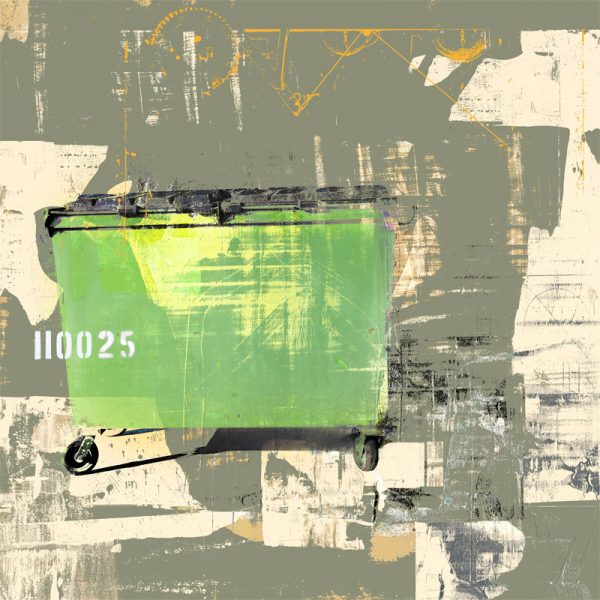 Iskra Fine Art in Print and On TV (!)
In other news I would like to announce my collaboration with Sarah Hurt at Seattle Art Source. After honing her curatorial eye with monthly exhibits at Plank and Grain in the International District, Sarah has begun a business to connect artists with patrons and designers throughout the city. My work was featured with that of several other artists in her recent interview on King 5. I loved Sarah's take on art as souvenir. Sure you can visit Seattle and come away with a Space Needle, but why not AshGrove Cement? One trip across the West Seattle Bridge and you will fall in love with that landmark of industry (not to mention the majesty of the Duwamish River.)
I am honored to be included in Magnify Seattle, brainchild of Seattle artist/entrepreneur Meggan Joy. This book features the work of 17 Seattle artists, including Anna Siems, Daniel Carrillo, Mya Kerner and David Hytone. I hope you will support fine art publishing in Seattle, and the entrepreneurial audacity it takes to publish a book, and go on over here to take a look.
If you missed it, there is still time to visit Museo on Whidbey Island for the winter show, which ends March 5th. Here are a couple of shots of the opening night with two of my shell paintings: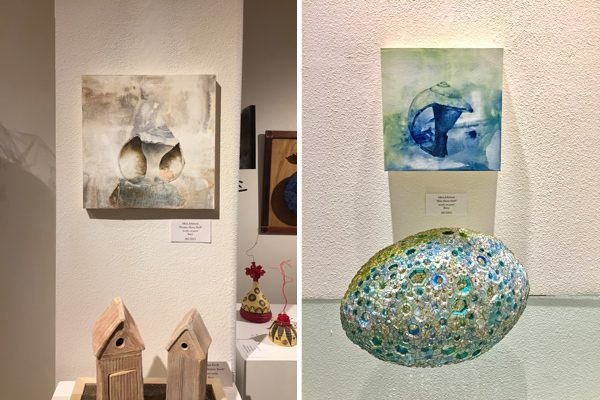 ---
Lastly, that pesky question of what is an artist to do in a nation on fire? Should we all give up and run for office? Should we switch parties just to be sure we are on the "winning" side? My answer is indirect. Go local. Pay attention. Keep everything in mind, but remember that emotion and personal connection are the food of life. The personal is political and that matters.
I walk daily with my camera, and I keep observing what is going on right here in this particular place. The number of construction cranes multiplies unchecked, and I hardly know how to navigate when I entire blocks of houses disappear. In late summer I took a walk through a lot where I used to get my lawn mower repaired. I loved the oily smell of that place, and the grumpiness of the couple who had been sharpening blades for 40 years. What's planned, as per the new urbanism, is a high rent block-wide apartment complex, with no need for a lawnmower because there will be no lawn. With the roar of traffic as backdrop I prowled through the deserted parlor of what had been a functioning hive of small industry only a few months before. The writers had come, and the poets, and the air was saturated with the scent of toluene, acetone and whiskey.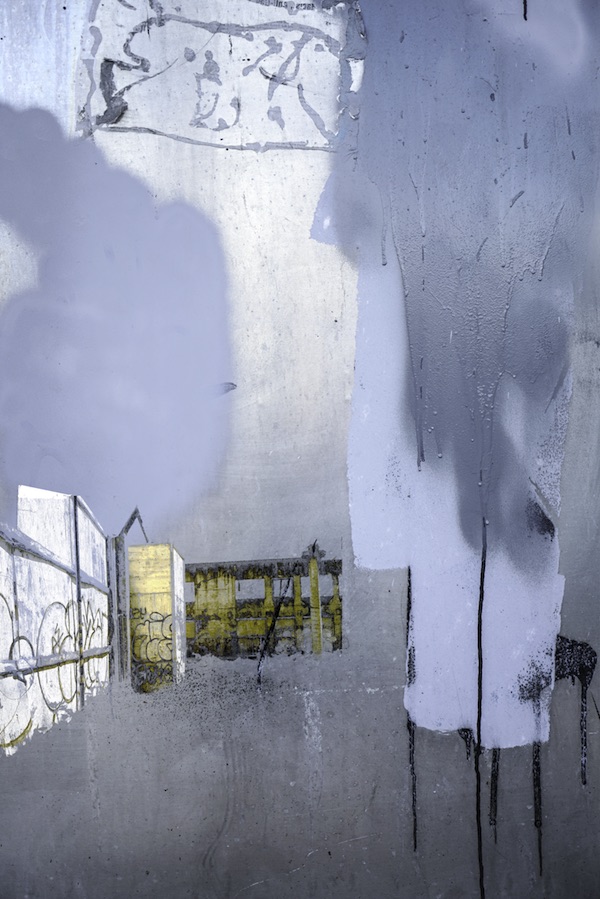 Is resistance to change purely nostalgia? I think some things are worth holding onto. Some things are better than what will come next. I write my letters. Sometimes it only takes one sentence to save a street.