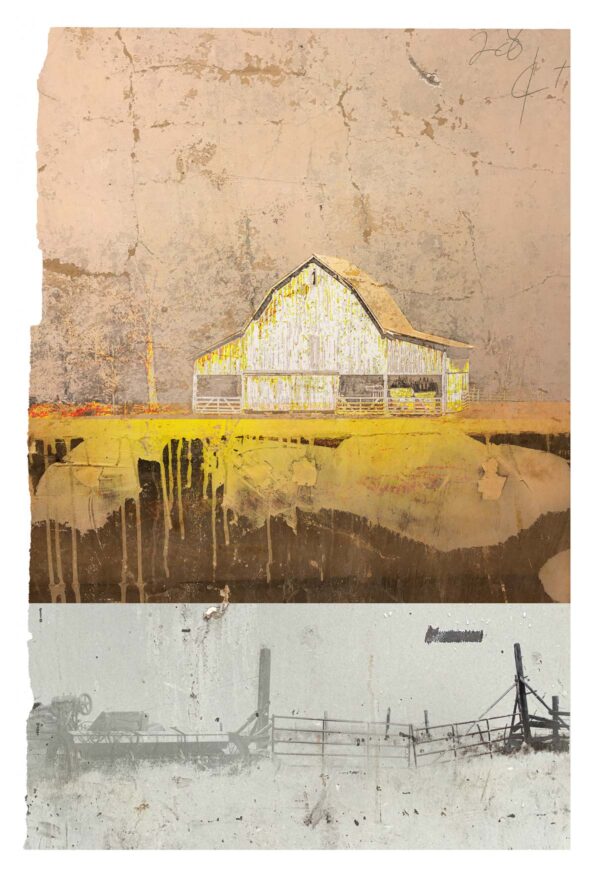 An entire season has passed since I last posted here. It has been a long sun-filled summer filled with concentrated studio time and a pivotal week spent in Eastern Washington in the long awaited Tieton Residency. A dear friend moved to Tieton in Eastern Washington two years ago, with the intention of creating a residency in her farmhouse for visiting artists and writers. The pandemic intervened and the residency did not happen for two years – until this August! I had the farmhouse, the upstairs studio, and the landscape to myself during the day, with hours to wander, photograph and draw. It was an unforgettable time of slow communion with my pencil and camera, with evenings spent in good company getting to know the Yakima Valley in new ways with my hosts.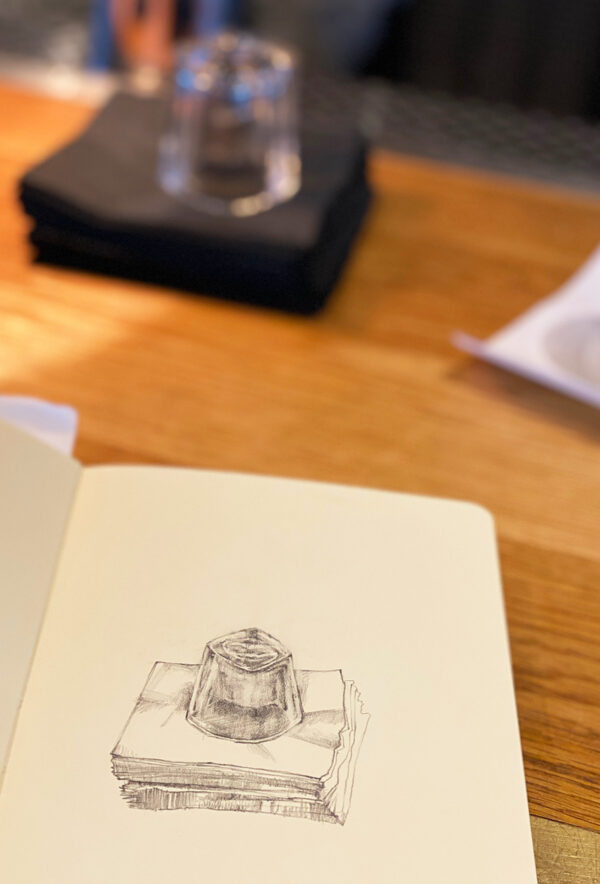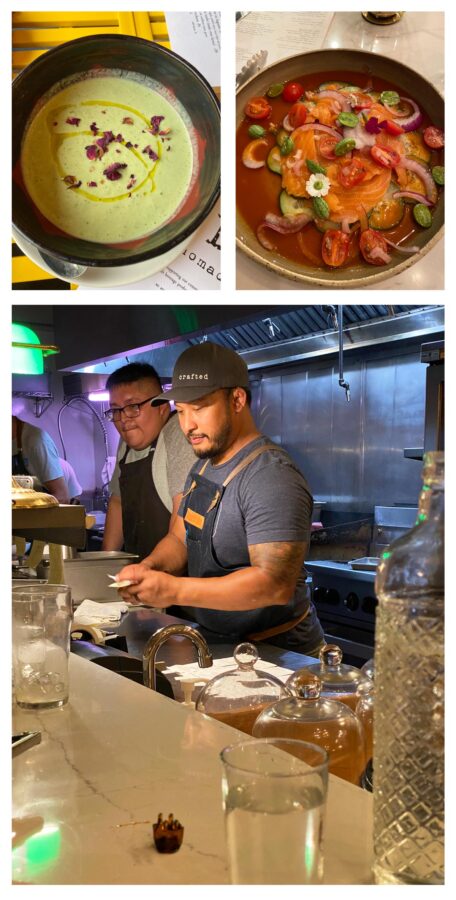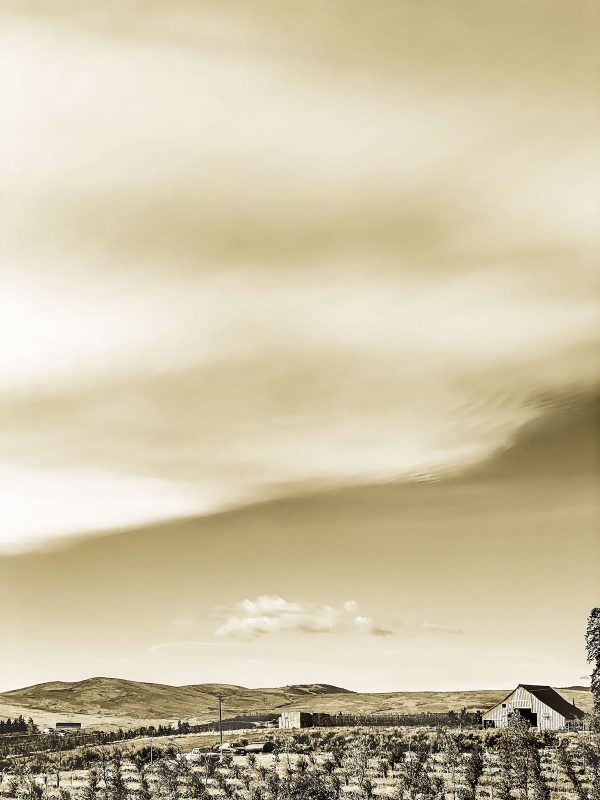 The farmhouse is situated on a road with a front row seat to sunrises and sunsets over the orchard valley. The muse of the property is The White Barn, which I have taken roughly a hundred photographs of (and which is available as part of an ongoing portfolio of Western Photography.) The architecture on the immediate property was my primary focus during the residency, with road trips to document alternate forms of my favorite structure, The Shed, in its native habitat. During this time I used drawing to sharpen my concentration, and apps like SnapSeed to experiment with new ways of combining digital and drawn imagery, which became final works in the studio once I got home.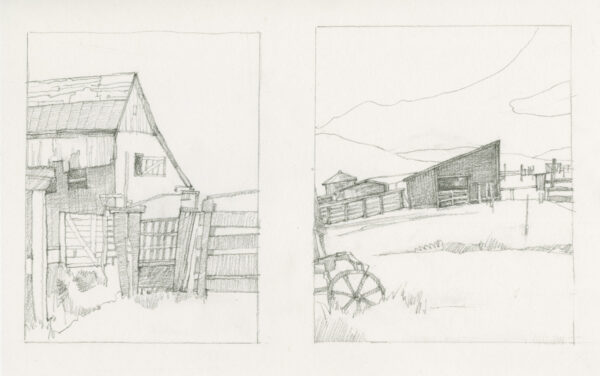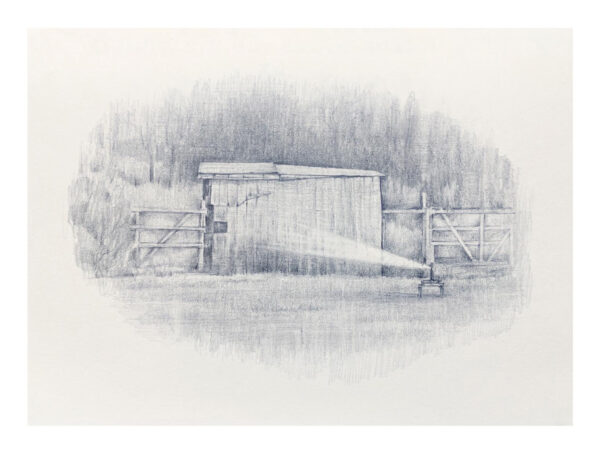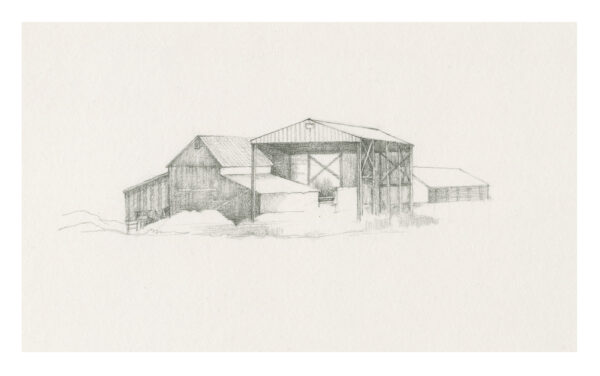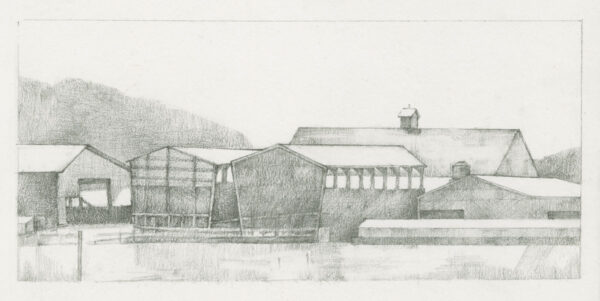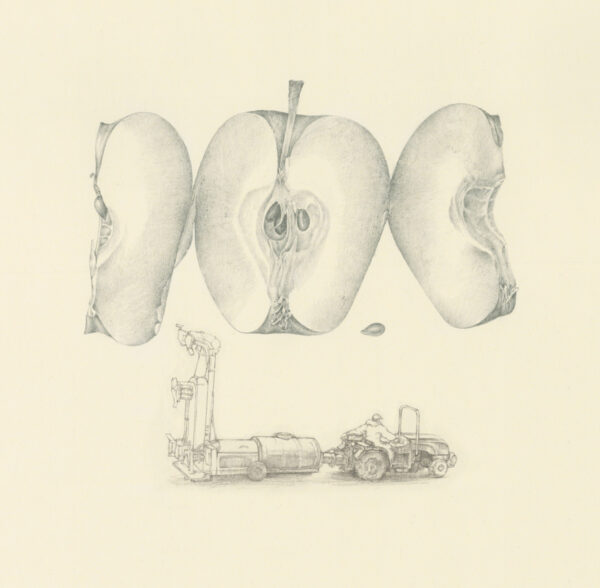 One morning I heard a loud roaring in the orchard on the hill. Awhile later a parade of rigs hauling pesticides passed in front of the window. The men driving wore white moon suits and drove under the shelter of canopies covered with a filigree of cut cans to ward off birds. In this piece I combined a drawing of the man with a botanical drawing of apples I did earlier this year. Agriculture is complicated. There is arsenic in the seeds of apples. There was arsenic in the pesticides that nearly killed me years ago. After running through freshly sprayed fields as a child one of my hosts spent a month in the hospital. Those who make their living in the fields hold their breath for a lifetime, waiting to see if they make it to 40.
Once home I began to work with the idea of the word "terroir" in different ways. Right now that word seems to encompass so much: the textures of earth and rust and weather that have always filled my work, the beauty and sensuality of the food culture I experienced in Yakima county, the sense of urgency that comes to the garden when your water bill is almost $500 and you still lose trees in unprecedented drought. "Terroir" comes originally from the French, and is a term that describes the meeting of wine and earth, the hard to translate sense of place that defines a wine. It is a particularly poignant word to consider, as olives and wine both teeter on a precipice in a changing climate.
Out of this exploration of terroir I have been making new collages, using hand-painted papers and photography. There is also a new series of cards, "Elusionary Landscapes: Back Roads of Rural America." These pieces are influenced by my interest in vintage papers and letters, first sparked early in the pandemic by a visit to a vintage ephemera store. Ruffling through a phone book of Seattle 1947 I stepped backwards in time and I have never been the same since. All three cards are available as prints in larger sizes. Click any image to see details or purchase.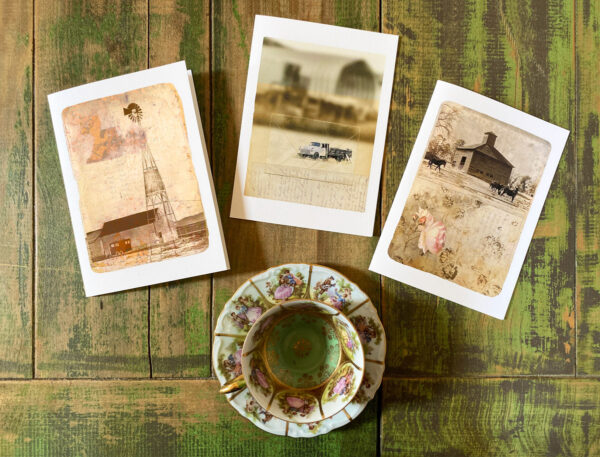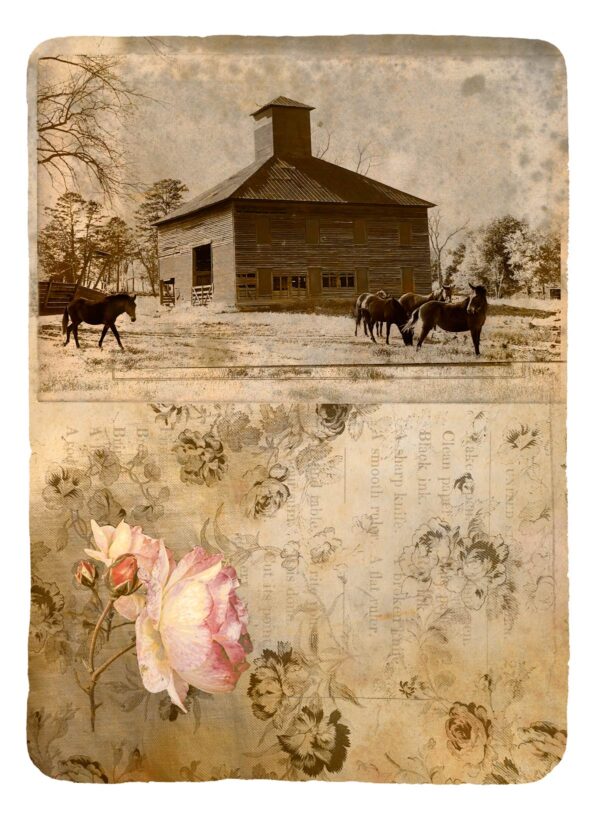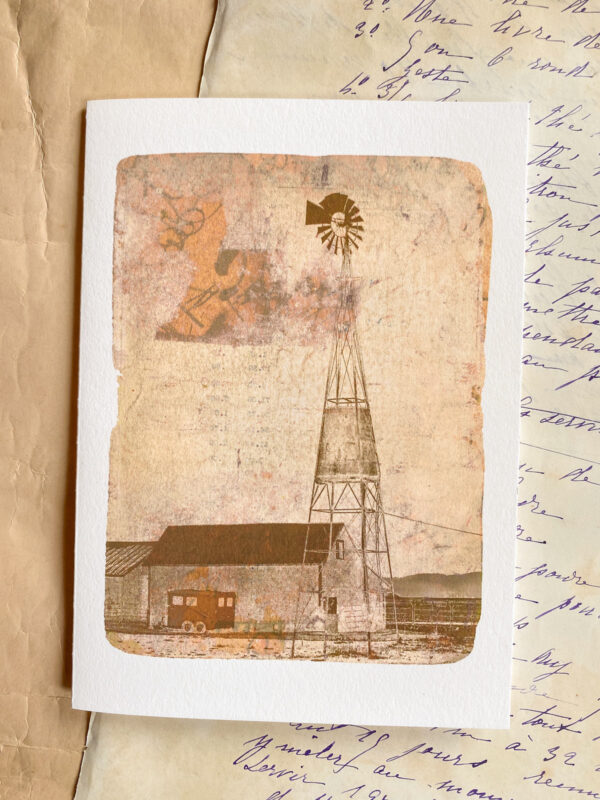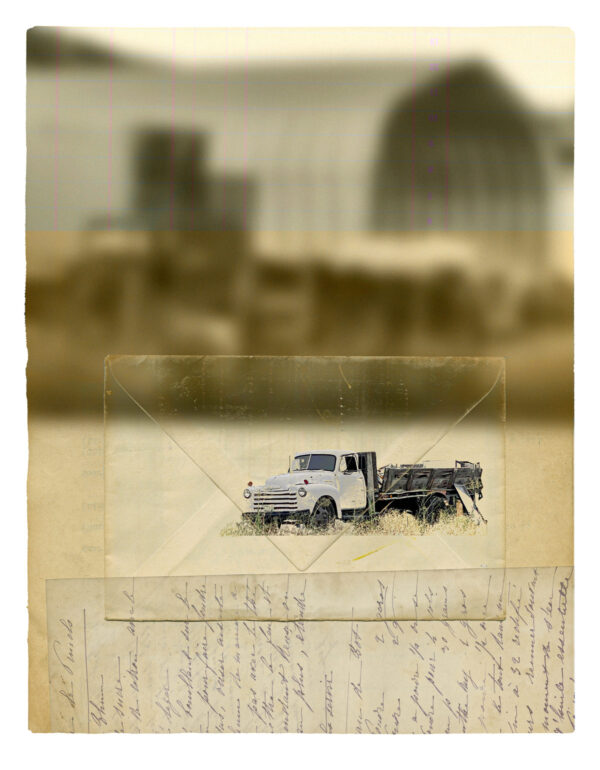 Mixing media is a kind of cross training for an artist, and each time I return to drawing and painting my digital collage and photography changes. When I do photo collage now I sometimes feel little difference from the act of drawing, and it changes the feeling of the pieces.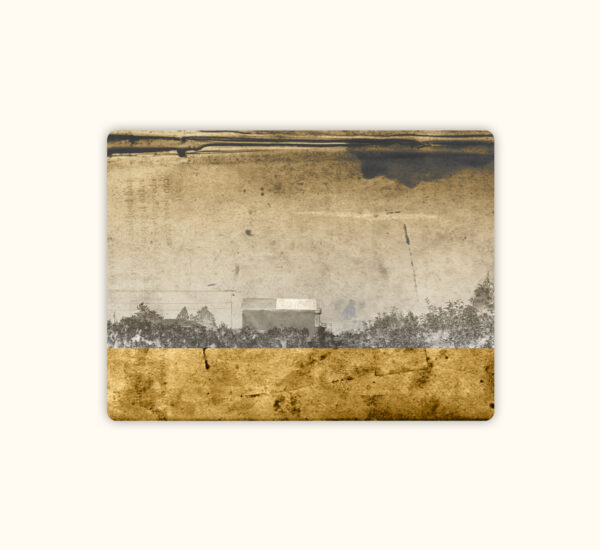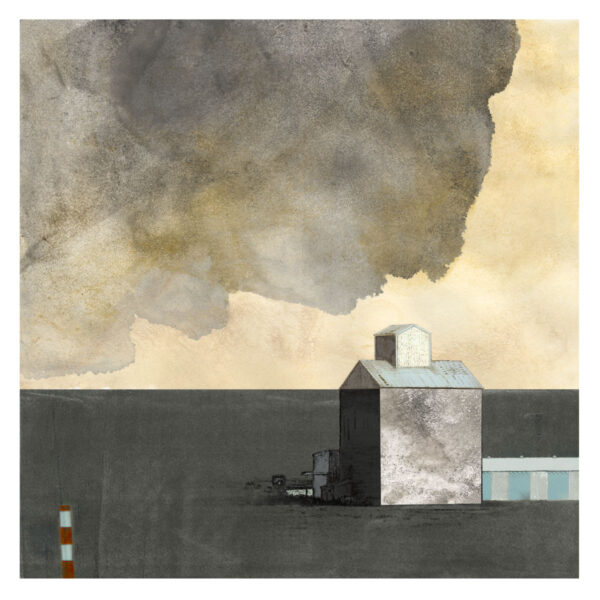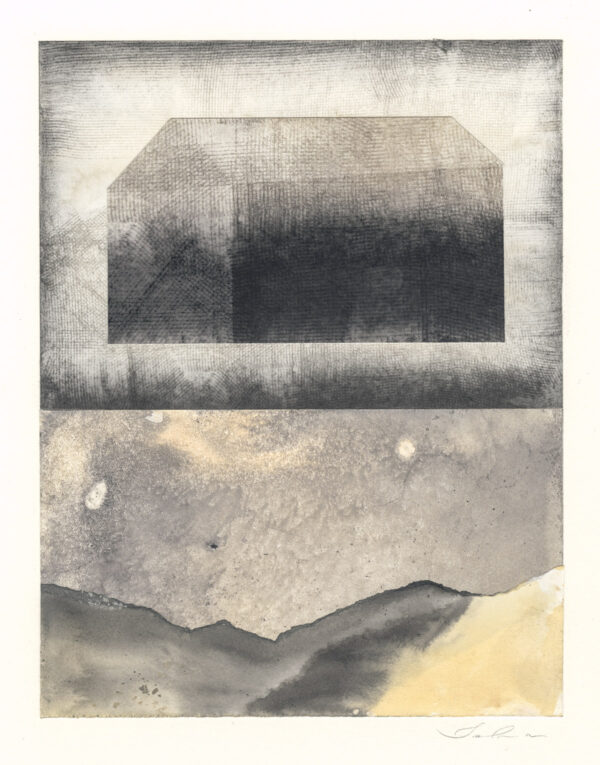 The last piece here came out of another kind of landscape, Whidbey Island. This September I visited friends there who are building a house on a hill. As we walked through the construction site my friend talked about the shape and size of each window, and how the view with no frame is not a "view," but with just the right framing the unorganized mass of nature and land becomes "more itself." Mondrian walked this territory with his trees interrupted by geometry. The invention of the "Claude Glass" in 1775 helped to enshrine the practice of framing landscape and the idea of "The Picturesque" for painters and poets from the mid 18th century on. This piece, "They Built the House So They Could See the Moon," is an homage to the visionaries and the builders. It is on its way to "Orbiting Missfits" at the New Moon Gallery in Spokane opening in October.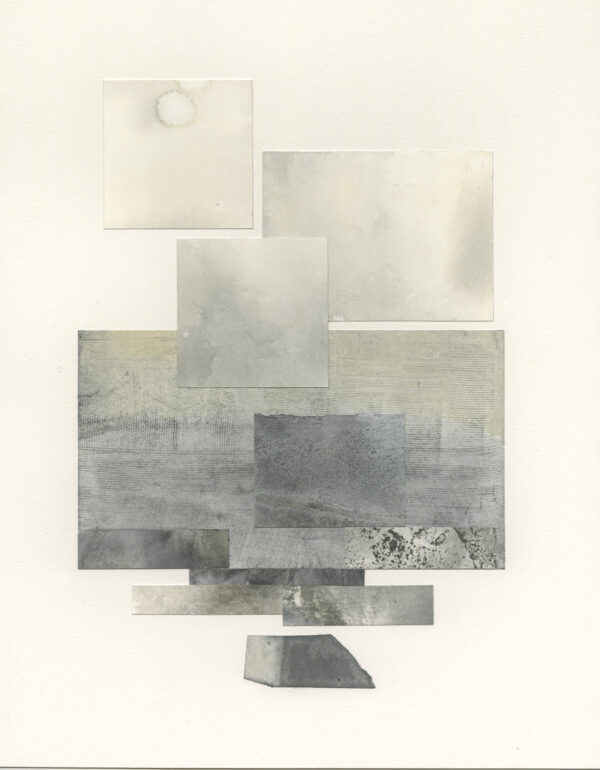 Stay in touch, and follow me on Instagram to see my studio process and to see more of this creative summer and new work ahead!