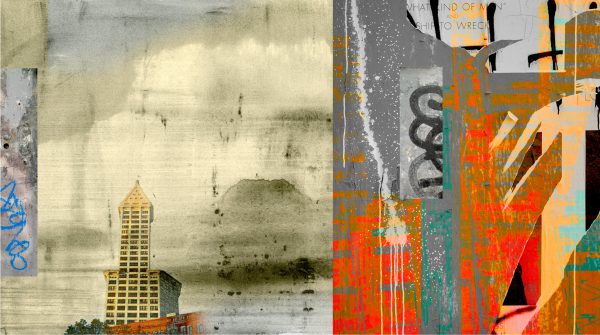 PRINTS TODAY | CONTEMPORARY PRINTMAKERS
Wed June 8- Thu July 7
Reception Thursday, June 9th, 6-7:30 PM
SAM Gallery at Seattle Art Museum, 1300 First Avenue, Seattle WA 98101
It's about time printmaking got some love in this town, and I am happy to say it's big love! On June 8th Seattle Art Museum opens its much anticipated show "Graphic Masters: Dürer, Rembrandt, Hogarth, Goya, Picasso, R. Crumb. In conjunction,  SAM Gallery launches "Prints Today," featuring six contemporary Seattle printmakers including Troy Gua, Rachel Illingworth, Curt Labitzke, Stephen Rock, Kate Sweeney and myself.
The prints I have made for this exhibit explore new combinations of surface, photography and collage and include elements of my recent paintings. The imagery reflects my experience as a walker in the city, exploring the edge zones of industry and gentrification, the anonymous poetry of the street and the quiet places where nature sustains contemplative refuge in the midst.
I hope to see you at the opening!

---
In other news, I am part of a lovely guest exhibit at Columbia City Gallery curated by Sue Danielson and Fiona McGuigan. "Confluence: The Duwamish Project," can be seen through June 26th. 4864 Rainier Ave S | Seattle WA 98118 | 206.760.9843 Hours: Weds-Sun 11am to 7pm.
Kirkland Art Center's Annual Artist's Exhibition, in which I have a print from the Floating World series,  continues through June 11, details here.
Stay tuned for a new collection of work coming up in September, with a return to botanical themes.