Last Friday I attended the opening of Mood Indigo at Seattle Asian Art Museum. It was a beautiful spring evening, the sky luminous over the park, and inside the refined Art Deco building everything shimmered in pale shafts of daylight and the flicker of blue votives. The museum's refined and stately ambiance makes any event an occasion, although curator talks can sometimes plunge me into deep states of cultural narcolepsy. Not this time! To hear curator Pam McClusky speak is to go to Burning Man without leaving your chair. As she told the story of Indigo she took us on a riveting journey through ancient civilizations and exotic lands, weaving history, myth, poetry and metaphor into a dazzling tapestry. In this exhibit her wit and insight is evident throughout, and every caption is worth a study.
The SAAM website has a very fine tour of the exhibit, but nothing compares with standing in real time in front of fields of floating kimonos and losing yourself in the genius of pattern. My favorite was the Japanese fireman's coat. A densely layered garment, stitched and intricately embroidered, it holds eighty pounds of water. The image of the fireman, blue and soaking, standing in a house of flames, is the stuff of dreams.
Speaking of which, last night I dreamt of the sea, which came into shore in the half-moment of turning to say hello to a friend. We looked down at our feet and could not find them in the shimmering mirror of blue green. Everything was moving very fast, and whatever we had planned for the next moment, or for our lives, would have to instantly change. I woke up to check my cell phone and read about massive world wide coral bleaching, fisheries collapse, Greenland's vanishing lakes and well, the generally blue state of things in this tilting out of balance planet.
I never know how the world will come into my work. I absorb so much: so much worry, so much beauty, so much conflict and dread. Whenever I can I walk the lake and let it all sift out into the tangled reeds and the great bowl of the sky. Since the night at the museum I seem to have been making compositions based on kimonos, and channeling antiquities without consciously knowing it. If you are going to steal from the past, 7th century Buddhist cave art of the Silk Road is not a bad place to start. That, and the fireman's closet.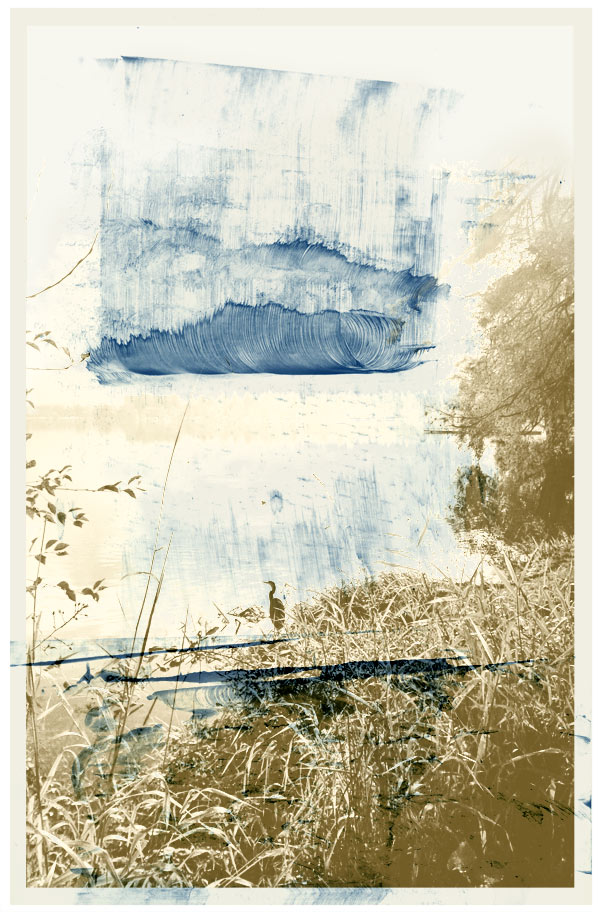 I have been doing some adventurous explorations of media and surface in the studio, which you can find posted on Instagram. Drawing with my eyes closed, rediscovering the eraser, (the analog woman's Command Z,) and getting ready for a whole new phase of making art. This new print combines the latest discoveries.
I have three botanical pieces in the Garden Show at Museo which runs through the end of the month, and am part of the Kirkland Artists Annual Exhibit. Details on both shows can be found in my newsletter here.  More soon on an exciting new gallery that is about to launch, and the SAM Gallery print show in June!
A last note from the walls of the museum, a passage from Rebecca Solnit's A Field Guide to Getting Lost: