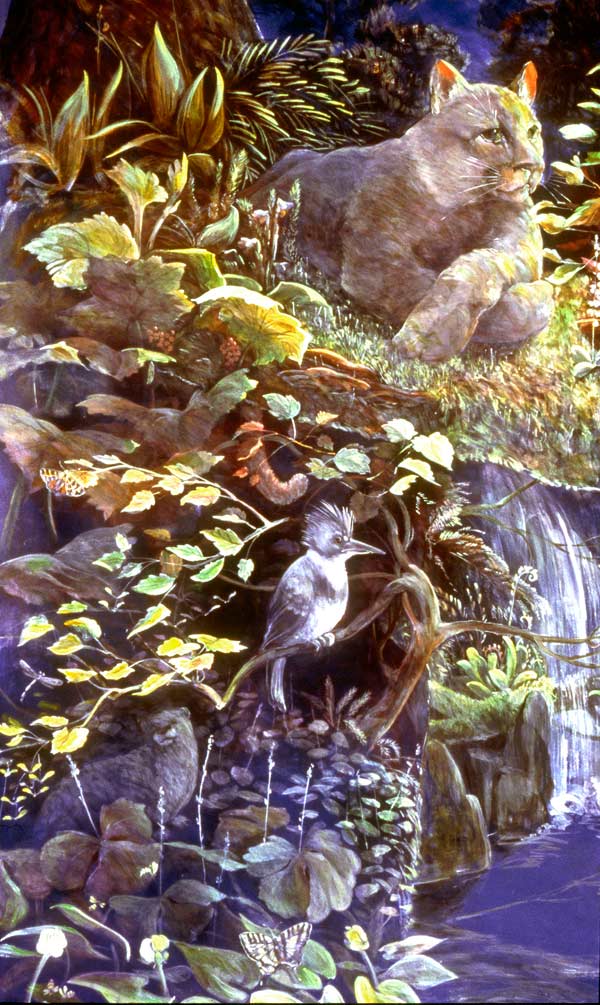 If you have ever attended a soiree at The Ruins, Seattle's most exclusive and mysterious supper club, you may have looked up for a moment across the gilt rim of your absinthe and locked eyes with The Cougar. As your gaze moved from the patterning of leaves to the shy otter and then to the majestic drape of the big cat's paws you may have found yourself wondering about the artist, and the style, which is an uncanny blend of ornament and botanical exactitude. The Cougar is but one panel in an epic mural that goes from ceiling to floor, creating an atmosphere of timeless excess and contemplation. Hearing the artist's name was "Carrasco," you might have assumed the work was done by some Italian guy imported from The Old Country to put a polish on the Northwest.
You would be right that the artist was imported, but he is a she, and she comes from the Inland Empire town of Pomeroy, next door to the Palouse. Jennifer Carrasco got her start in the dry scree and lazy rivers of the American west. There she fell in love with landscape and learned the stillness that comes of wandering quiet empty places. The oldest of four daughters, she was raised going to mass every Sunday and singing Gregorian chants. A close-knit town with deep roots, Pomeroy embodies the best of family, connection and continuity, but it's also the kind of place an imaginative person might yearn to leave, just to see what's beyond the hills. After getting her BA degree in art and education at WSU Jennifer took off for the big world.
She has led many lives, far beyond her small-town roots, as part of the Peace Corps in the Phillipines, as a mother, a poet, and as a painter and teacher in Japan, Alaska, and the deep South. By the time she landed back on the West Coast she had a wealth of artistic influences to draw from. Her assignment for the Ruins was to create a style of "Northwest Rococo," and every detail of fauna and flora is researched and authentic, drawing on a year of research into painting styles, ornament, and museum artifacts and diaries from the early days of the Northwest Territories.
This level of immersion is not unusual for Jennifer. She is a passionate artist's artist. With each project she dives into history and genre with avid curiosity and fearless energy, bringing disparate influences together in new forms of visual language. As her friend for the past fifteen years I have marveled many times at her mastery of style. Paint a horse in French chinoiserie? Sure, why not.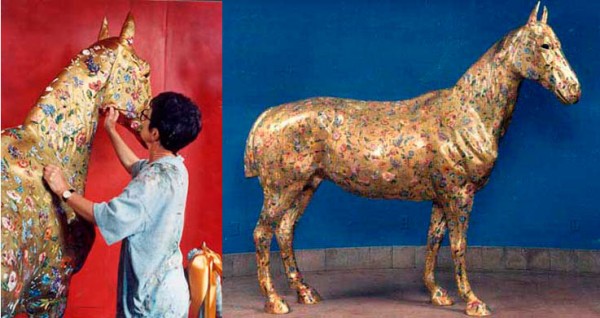 A trompe 'oeil bookcase (with x-rated titles?)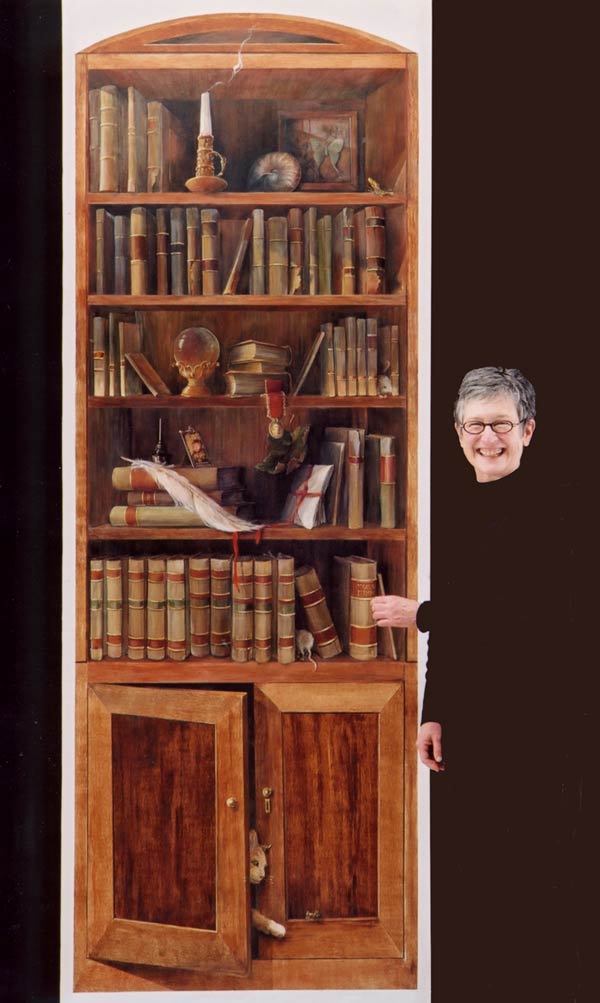 A 17th century bacchanal ala Chardin and Velasquez for Seattle's premier restauranteur?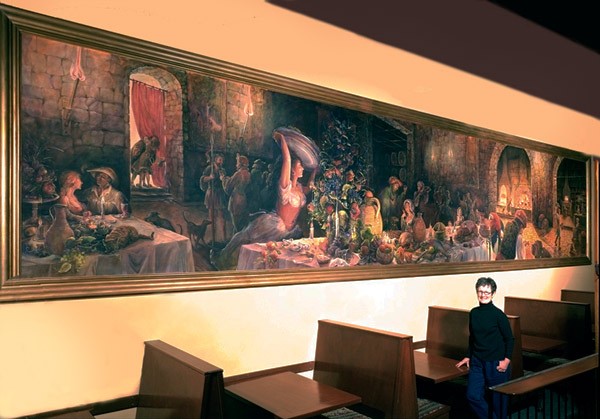 But although Jennifer is a shapeshifter and style virtuoso I think she always returns to a place uniquely her own. My favorite paintings come from her relationship with the land. You can condense that in the standard phrase "landscape painting" but that does not do it justice. In her paintings of rivers and trees I can hear the wind blow and the river snails inch along stones in the shallows. Although her skill is daunting, it does not obscure an almost mystical sense of "being there," reminiscent of The Piper at the Gates of Dawn, my favorite passage in Kenneth Grahame's The Wind in the Willows.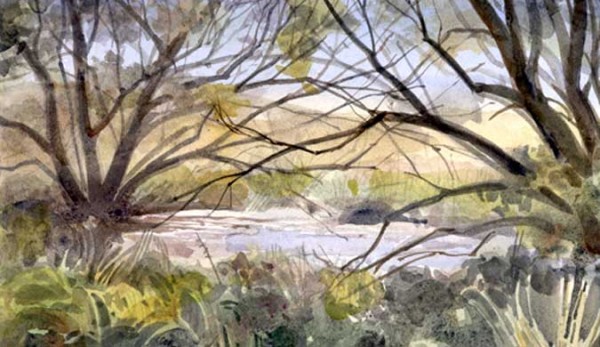 I visited Jennifer this August to see her latest landscapes and to shake myself out of an artistic funk. I needed an immersion in craft, and who better to go to for that than a master muralist? I asked her if she would give me a primer on plaster, and remind me how to become absorbed in work, in a zone with no internet distraction. Forget Pandora, checking the news feed, Facebook or Instagram every ten minutes – this is a woman who works from 8 at night until 4 in the morning listening to books on tape. Instead of spouting trivia on the latest political scandals from the Huffington Post she can chat about actual literature and quote poetry at the drop of a hat. Whenever we visit I leave inspired and determined to live with more intention and depth.
Jennifer's studio is tucked into the backyard of her lovely garden home in West Seattle. Each summer the front yard glows with peonies and poppies and tumbling roses. This time of year the echinacea has taken center stage.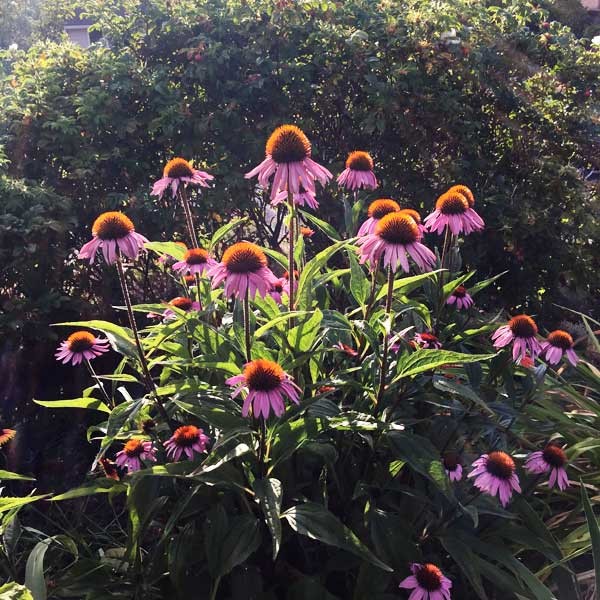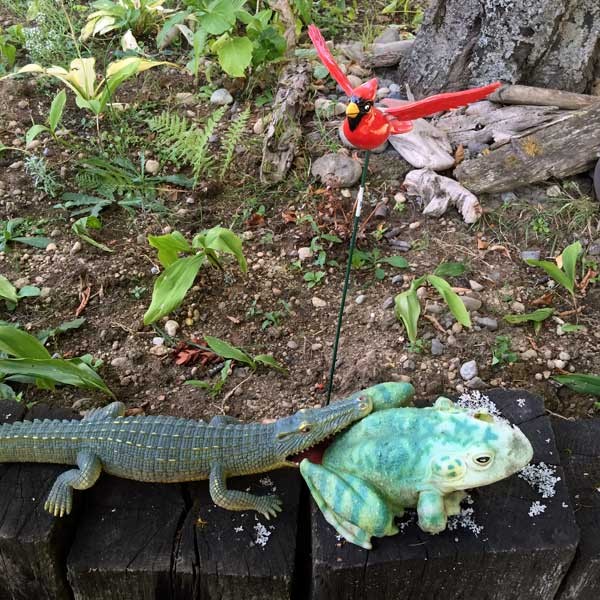 Nature is everywhere, demonstrating the principles of Darwinian survival and providing anatomical reference for the details in Jennifer's paintings. Her studio is an organized disorder of paints, tools, and work in progress.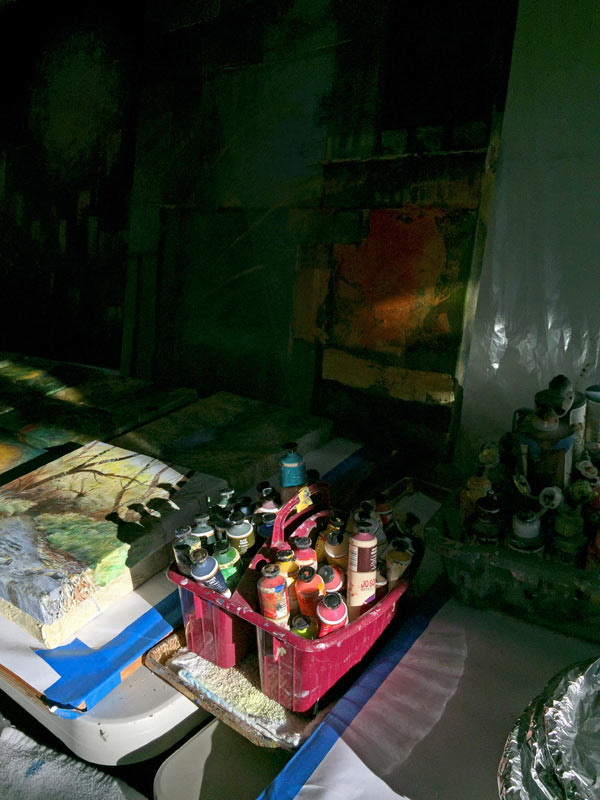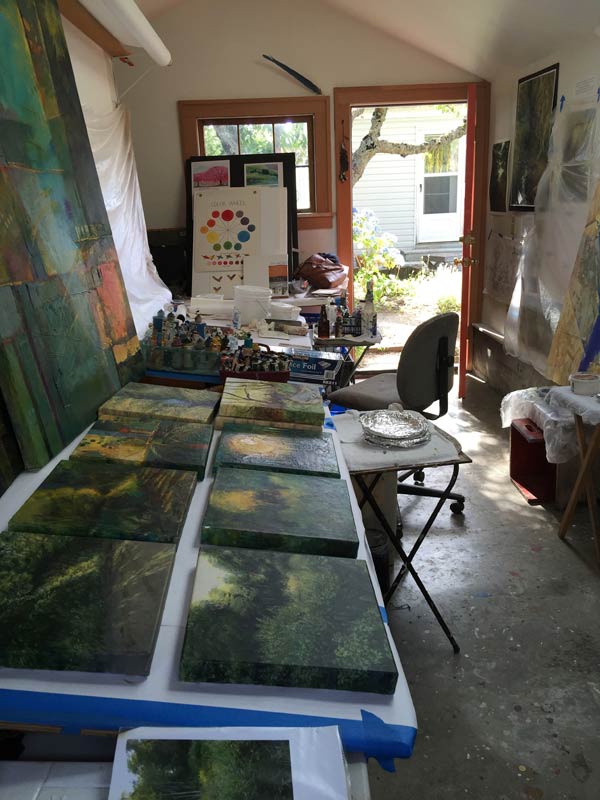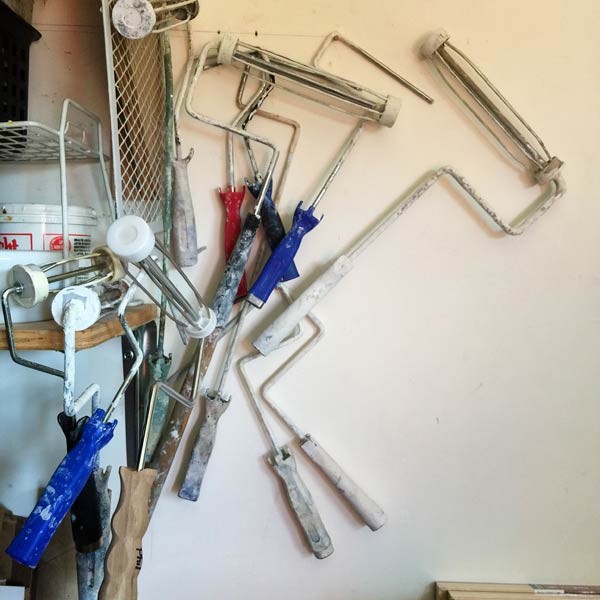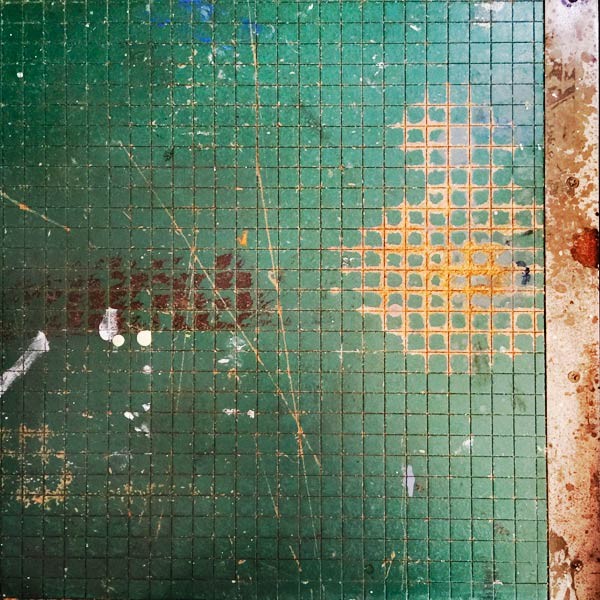 We started my tutorial with basics, the tools, the techniques, the patience. She showed me a few examples that made me wonder if I might want to go lie down for awhile, and dream of Pompeii instead of trying to actually do this.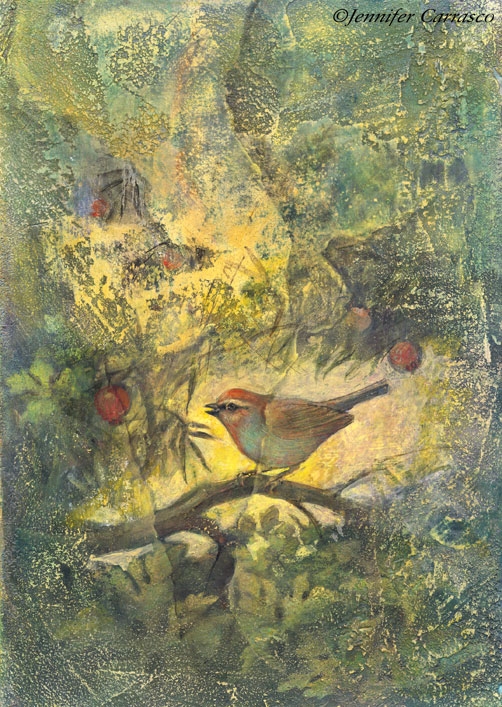 She got me set up, and I began at the beginning, always a good place. I think the trowel is the most beautiful tool I have ever seen.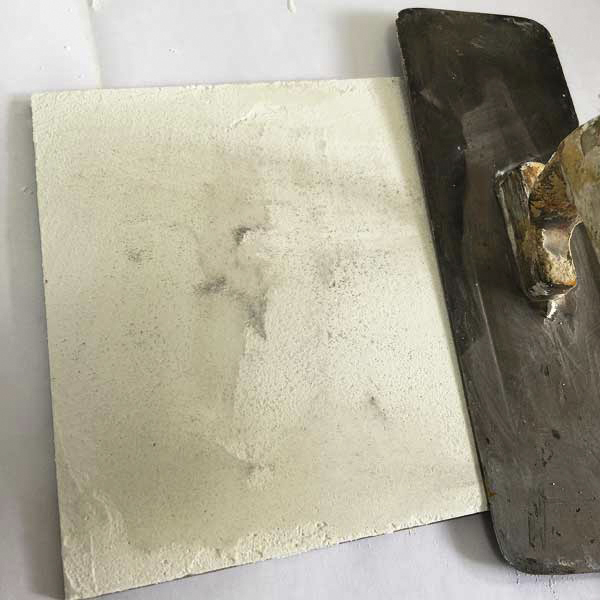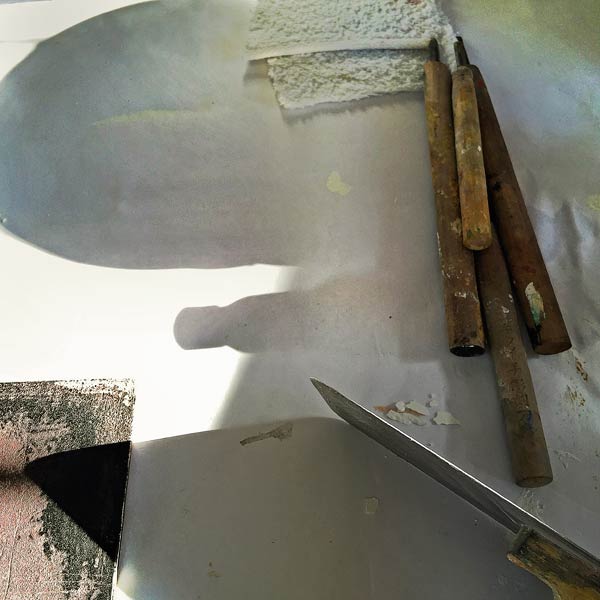 While we waited for things to dry we ran down to Stucco Italiano, in Georgetown, where Jennifer teaches workshops. This place is an absolute gem of a resource, where you can learn how to do traditional fresco and wall treatments and buy Venetian plaster, the real thing. This is such an intoxicating environment. I can't wait to go back and take some of their classes.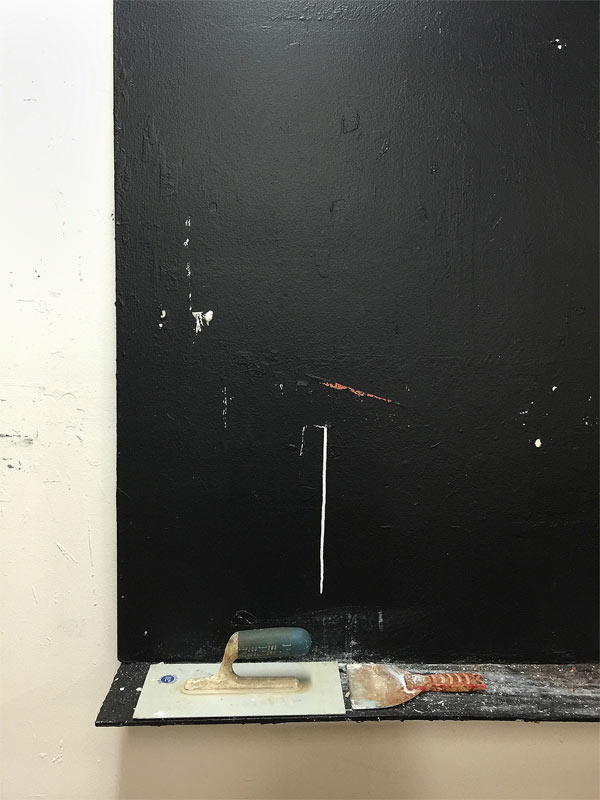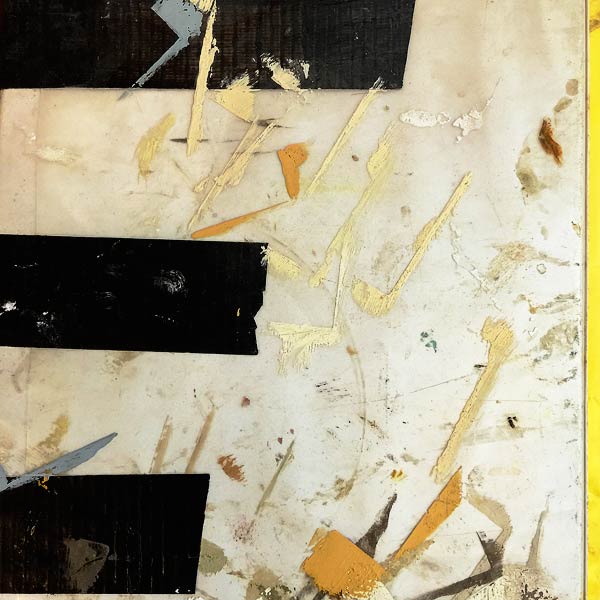 Jennifer is a gifted teacher. She gave me just enough technical advice and encouragement to get me involved, locked my cellphone, and then left me to my own devices. Surface! I am smitten with marbledust.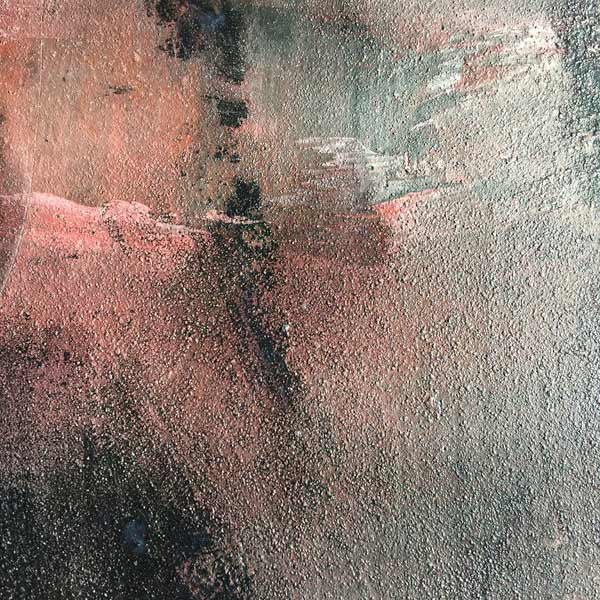 As the afternoon light drifted in I took a look around and fell in love with this painting, a new direction of Jennifer's in which she is capturing her memories of the land in acrylic, on canvas. This piece speaks to me so much. It takes me back to my own childhood growing up on a farm, wandering with dogs, waiting for Pan to step into the meadow.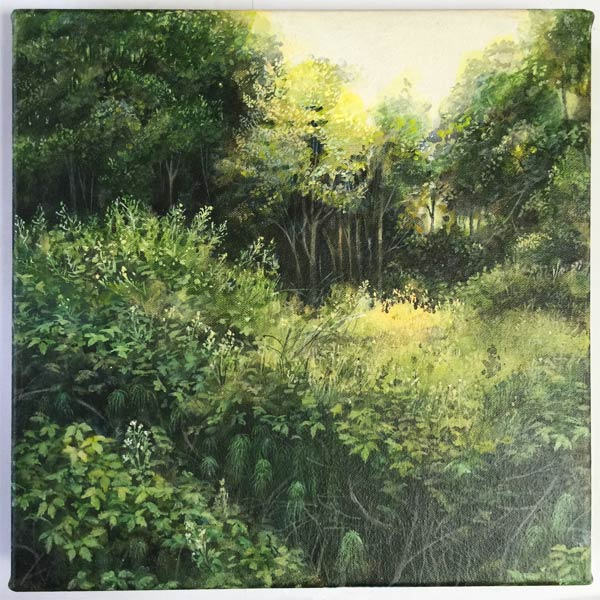 More from the new canvas series:
And from her watercolor series on rivers: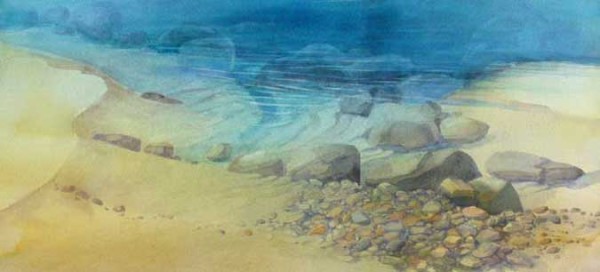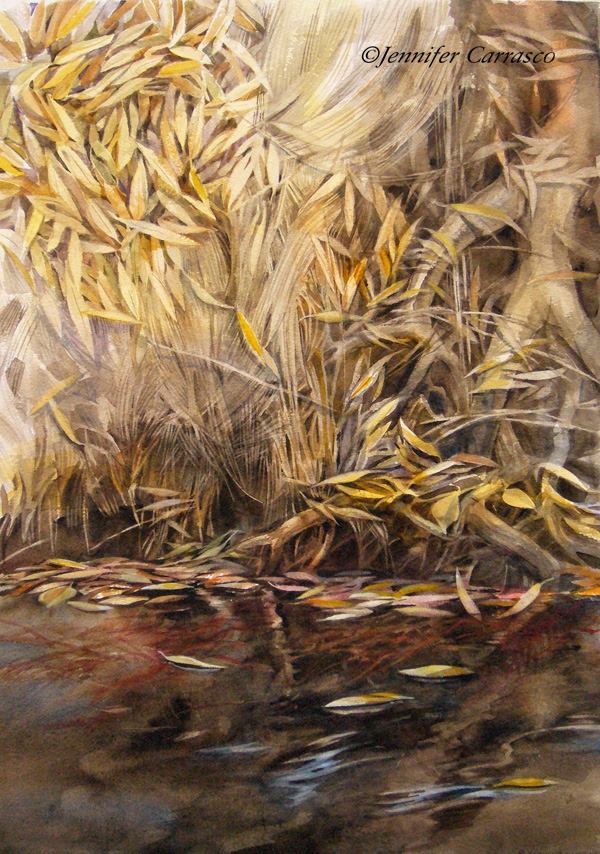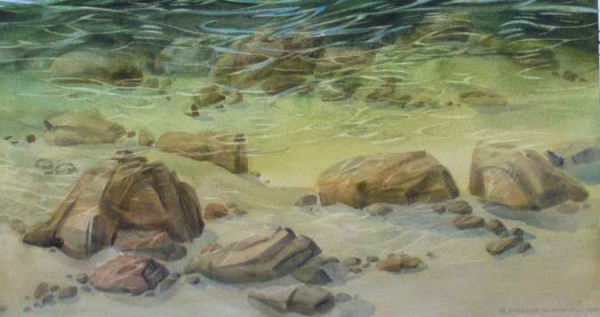 Jennifer is a much-loved teacher in the decorative arts community. Her popular watercolor classes are held at C&P Coffee, where she teaches evening sessions and workshops. If you haven't been to C&P in West Seattle do visit. It is a remarkable center of community, art and music.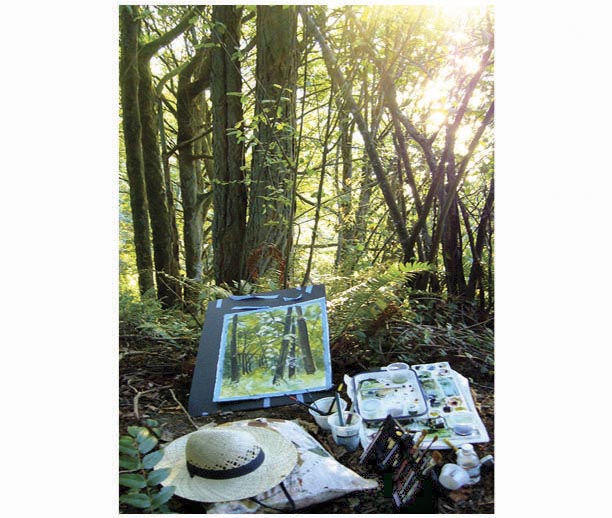 You can contact Jennifer through her website, Carrascostudio.com to purchase paintings or to take private instruction. If you would like to find out more about her sources of inspiration and see her most recent work follow her wonderful blog. You can read about our epic road trip to Pomeroy and the Eternal West here.