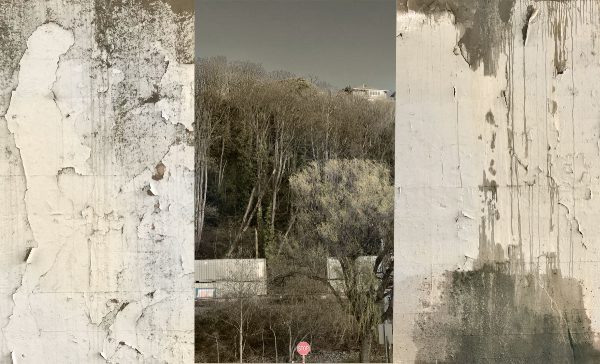 (See the Motion version on Instagram.)
It has been only 20 days since I last wrote here, and yet in that time the world is completely changed. Millions of people across the globe are now confined to their homes as modern life as we have known it shuts down in the face of the corona virus. The profound sense of isolation in the studio, combined with the media's constant drumbeat of dystopia pushed me for several weeks close to despair. Forced to look at the books on my shelves (and consider reading them) I came across Milan Kundera's The Unbearable Lightness of Being. In it, the draft of a calligraphic treatment of a quote: A single metaphor can give birth to love.
With galleries closed and shows delayed or cancelled, and with a sense of life or death urgency and helplessness heavy in the air, motivation for working in the studio has been in question. But the quote, and its tissue paper flourishes, lingered in my mind. I think it was its echo that led me to realize that this is the time, after years of thinking about it, to take on #The100DayProject. Under house arrest in my pajamas, there is no escape. And certainly nothing to lose.
The One Hundred Day Project was first introduced in 2007 by designer Michael Bierut as a challenge to his graduate students at Yale. The outlines were simple: "Do a design operation that you are capable of repeating every day. Do it every day for one hundred days." The project was brought onto social media by Elle Luna in 2014 and has become a platform for reinvention with global reach through Instagram.