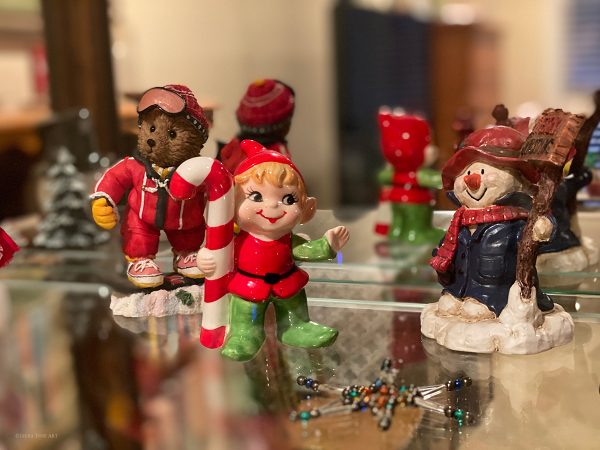 When Museo Gallery announced "Eat Dessert First" as the theme for January's show I was not enthused. You may be one of the millions of the happily deaccessioned who, exiled from the office, went home to become the master sourdough bakers you've always wanted to be. I however haven't cooked dinner since March 2020. Since then I have been living on Purell cocktails and roasted cashews. How would I be able to tell which comes "first" when I still have not been able to distinguish the days of the week much less my "meal times"—? For two years it's been a desert of silent meals spent doom-scrolling with a napkin, a votive candle and my phone, and waiting for the world to stop turning in the wrong direction. Appetite. Hmmm.
Nonetheless, I spent a lifetime as a designer taking assignments I didn't want to do. My training is to catch whatever stick is tossed out and carry it back to whoever threw it. And so I thought about my resistance to this title and worried it, word by word, into the snow-frozen ground. For my personal holiday hashtag I took #sugarcoma, and looked for every situation in which it might apply. Against all odds, which included an alert from the state that I had been exposed to Covid and an emergency test on the morning of Christmas Eve, I had, astonishingly, a picture-perfect and rhapsodic Christmas surrounded by family, throughout which I ate spritz cookies and chocolate for breakfast. For three days I walked in a happy trance from the Betty Crocker cookbook to the cookie tins with their waxed paper petticoats peeking out. When you are an adult home for Christmas after two years of absence nobody says you can't eat dessert first, or for that matter all day. There is no more perfect state than sitting in a rocker with a blanket and a book after three salted caramels watching snow fall just on the other side of the Christmas tree.
Mulling over the pleasures of indulgence, the ever-lurking punishments of guilt, and the lucrative self-help industries that promise to lead us not into damnation but into boundless self-love, the riddle of the title became clear. It's the parable of all time. Eden, Eve, and the Apple: The First Dessert.
If, like me you were raised godless, you may need a synopsis. There was a snake, a garden, a girl, a boy, and a voice booming from the clouds what and what-not to eat. The word "gluten" had not yet been discovered. Figs, minerals, swords, rib, cherabim, these had been written out in a careful hand by scribes with annotations in the margins. "Don't" was underlined in italic.
I cut up an apple and considered it.
At 18, in my first year in class at Cornish, Charles Stokes said: "To be an artist, first you must learn to visualize. Your assignment is to go home, close your eyes, and visualize an apple. Rotate it and observe how it looks from every direction, as though you were God and you had just designed this fruit. Then imagine cutting it into pieces and turn each piece in your mind's eye. If you need to get in the bathtub, do." A year later, my skin had turned permanently pink from baths, but I was beginning to be able to See. That moment when I really could imagine the apple from above, below, the side, and visualize the slices falling away was a revelation. The cherubim cheered. Today I can shut my eyes in any moment of boredom and see the apple rotate like a muffin on a dim sum tray, round and round, the highlights glinting.
Apples also nearly killed me. When I was 19, I worked for a month in the orchards of Orondo, and slept under the trees in a sleeping bag and little else. Each morning I woke to the drone of crop dusters and the pale white incandescence of pesticides sifting through the leaves. My water came from a galvanized pipe fed directly by the irrigation ditch. Me and Caesar Chavez? Solidaridad. I came back from the orchard with a stomach malady that defeated every doctor I saw. Over the ten years following I lost 32 pounds, and I had been slender to start. At 27 I came within three weeks of death. Over that decade I was tested for everything, and my body claimed an allergy to every food except the pinto bean. No amount of antibiotics or enzymes or the primitive curatives of those days worked. After this inexplicable and punishing siege on my health it took years to get back to food as a good idea. I lived on boiled carrots and rice. The one possible argument to inexplicable: every alternative medicine healer found indications of arsenic, a prime ingredient of pesticides and known disruptor of the digestive tract.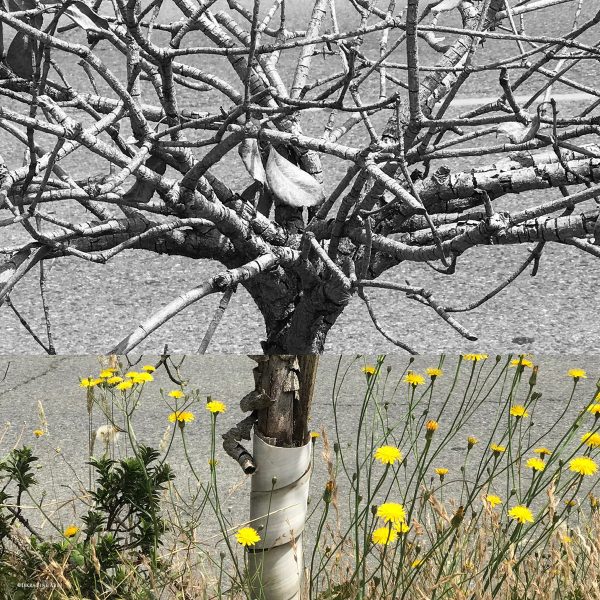 Recently several people have asked me why I don't do "political" art, because I am known as a political person with a passionate opinion on pretty much everything. To me art is where politics go to embed and emerge as metaphor. That transformation allows us to reclaim power in ways that the language of politics can't. At heart, politics is power. Who has it, who uses it, who abuses it, who takes it back. Knowledge may get you kicked out of Eden, but like humor, it may also give you agency over your life. Politics is ever-present in my work – it is simply in disguise.
When I sat down in December to draw an apple I was not consciously thinking of Orondo or arsenic or the number of workers felled each year in the fields or anything at all except the divinely sensuous and and elusive symmetries of shape. I have always wanted to draw like Ingres, and though those skills often feel unattainable I have not stopped trying. I set my task to observe, to remember again how to use a pencil, and to record one particular apple.
Three days later, I was captivated by what a parable this fruit is, sliced and viewed in hemispheric display. At its heart the apple holds tears, sealed secrets and empty chambers, parentheses shaping and reshaping the story, expanding outwards to the edge until they can no longer be seen. This is the cartographer's view, longitude and latitude, and here under the brute scrutiny of the knife is the history of the Garden and all that came after.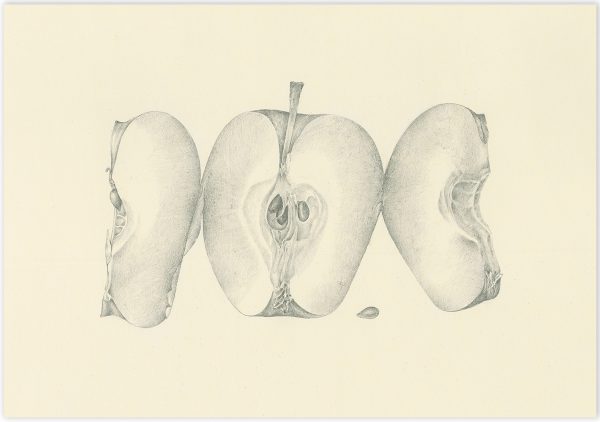 This week of botanical study led me, naturally enough, back to Betty Crocker, and the kitchen, the iconography of the cookbook, book as bible, and the idea of the Bible itself—how do we learn to behave? The only bible I grew up with was a Gideon stolen from the drawer in a hotel, and I still have it. It occurred to me to look a few things up. I considered Adam and Eve, and the history of all temptresses and sinners, housewives and cooks, the design of the first apron and the evolution of lingerie. Like millions of other seekers I went to Google for what had been left out and asked, What is the age of Eve? Does she look her age? And where is Adam now?
You may also be wondering about that absent man, who today we would call Eve's first "follower." I think, as women find their footing and rise, that Adam might be confused. I do not envy him. In 1912, according to the ledger, Carl Stephenson worked 250 hours and made 37 dollars and 50 cents. But he was able to support his wife and three (nine?) kids while she stayed home all day sewing. He is here, standing just off-stage waiting for his pay slip from the St. Louis Railway. He is holding his breath to see what Eve does next.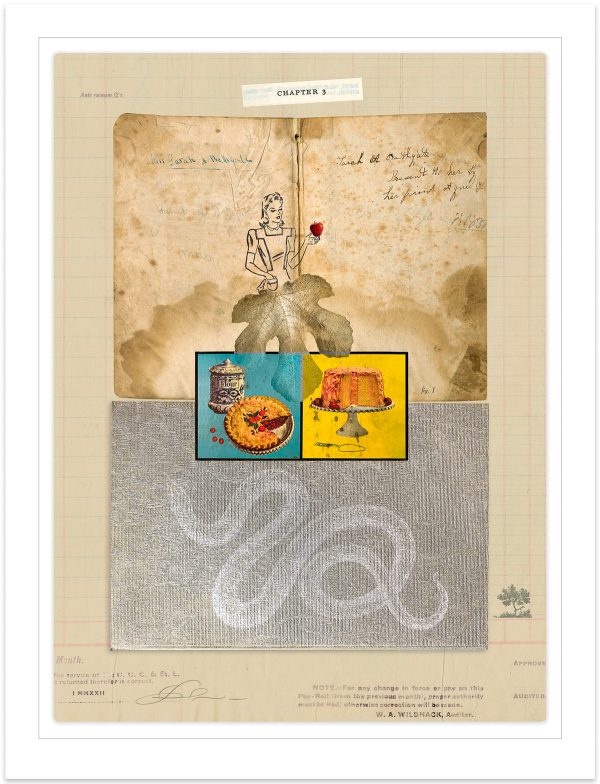 "The First Dessert," archival pigment print, limited edition of 10, each hand-signed by the registrar, who would be me, and available through Museo through February 30th. $450 unframed. Due to the well-known circumstances which remain beyond our control there will not be an opening, but the show begins January 22 and may be viewed online or in person at Museo Gallery: open Wednesday-Saturday 11-5, Sunday & Monday 11-4. 215 First Street, Langley Whidbey Island.) If the world begins to turn back in the right direction there will be a closing party February 26!
*The recipe for the First Dessert courtesy of Betty, Gideon, The Apple Growers of Washington and the auditor of the Cleveland, Cincinnati, Chicago & St. Louis Railway Co..