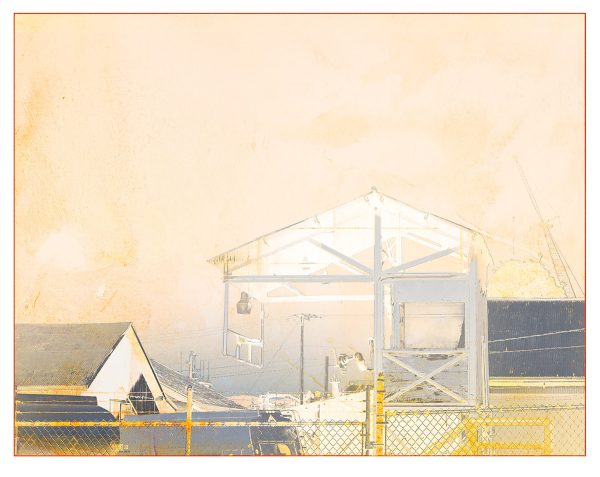 I am excited to be part of the Building C Open Studios this year, courtesy of AJ Power, who is hosting me as a guest artist in his studio on the second floor. I adore AJ's work, and have had one of his magic bird images hanging on my wall for years. Building C is located at Leary Ave NW & 14th Ave NW in Ballard, "the big brown warehouse across from the Ballard Office Max." Ample parking in the adjacent lot or on-street, enter on 14th Avenue. Building C is a hive of talent in many media, including painting, ceramics, jewelry and clothing from 24 artists. Open Saturday, December 4 from 12-7, masks required.
I will be showing work from the last two years of explorations in collage, photography and mixed media, as well as some brand new pieces. Most of the work has never been publicly shown outside of my blog or Instagram. I'm curious to get your eyes on it and see what you think!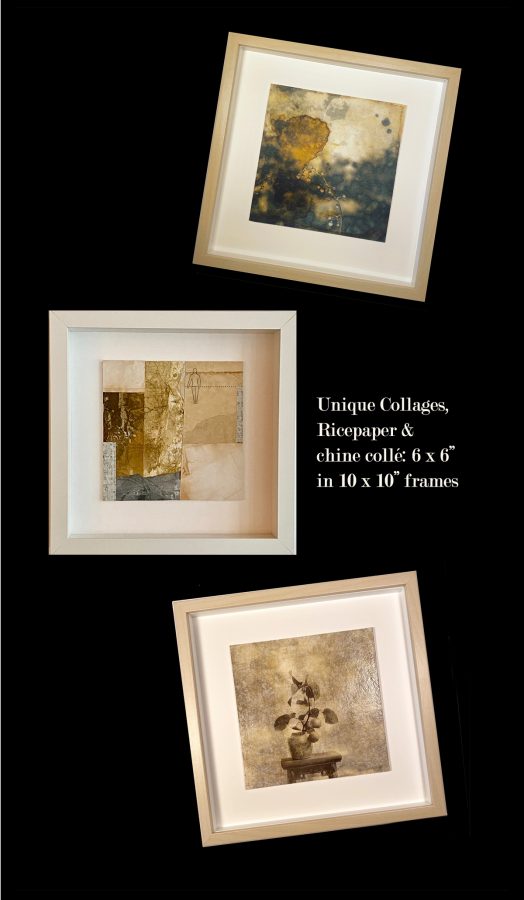 I have had requests recently for small works for gifts and small spaces, and so this year I am trying something different, with a new selection of framed pieces ranging in size from 6 x 6″ to 12″ as well as limited editions of prints on 13 x 19 and 8.5 x 11. For those who missed previous open studios where I offered my Venetian plaster botanicals, the remaining pieces will be here as well. Unlike a thematic show this is a chance to see every non sequiter and direction my artwork has explored, from the amber moods of the Sweet Old World to the blazing color and disrupted space of my architectural and maritime work. Below is a tiny sampling.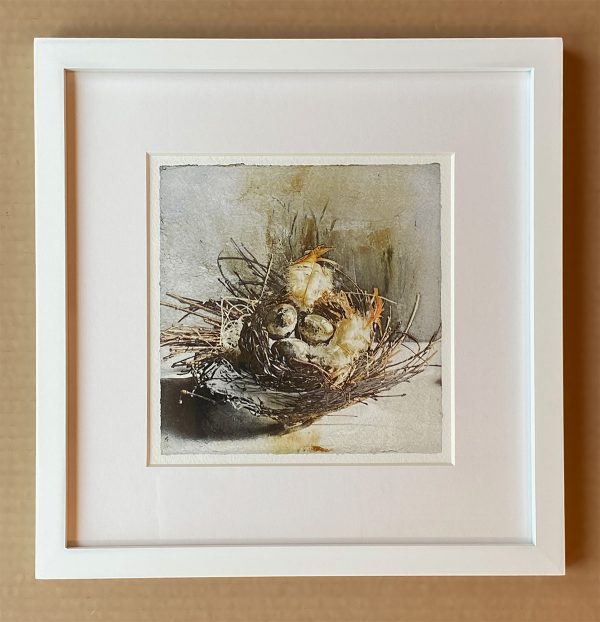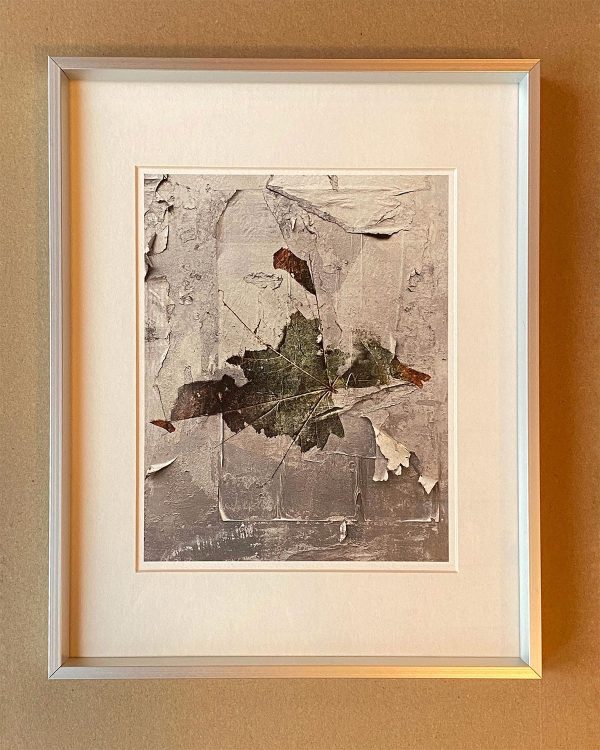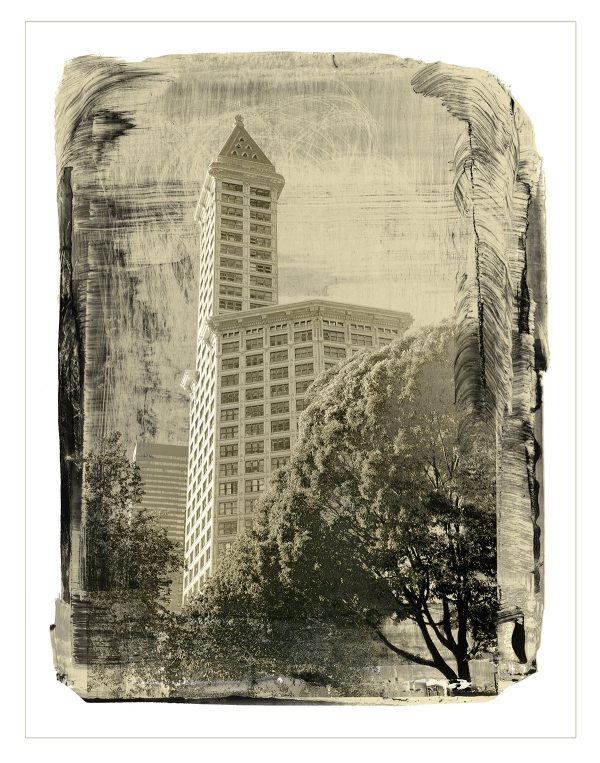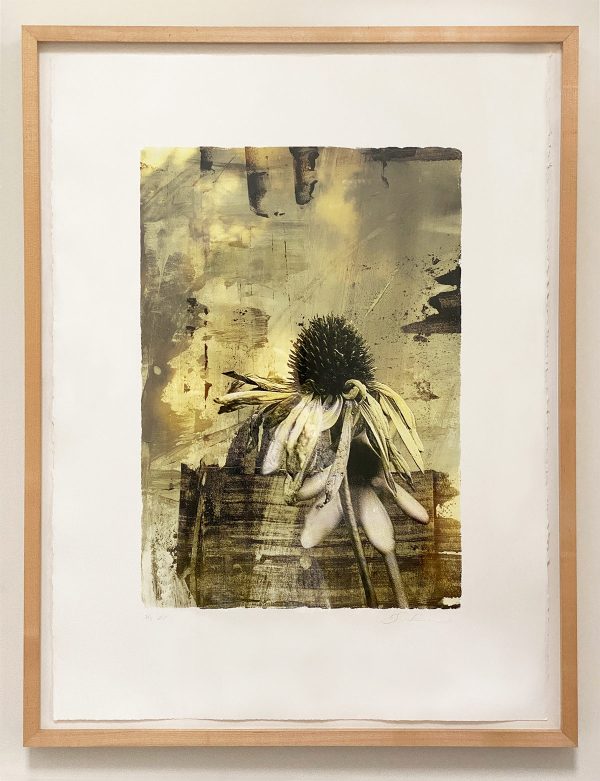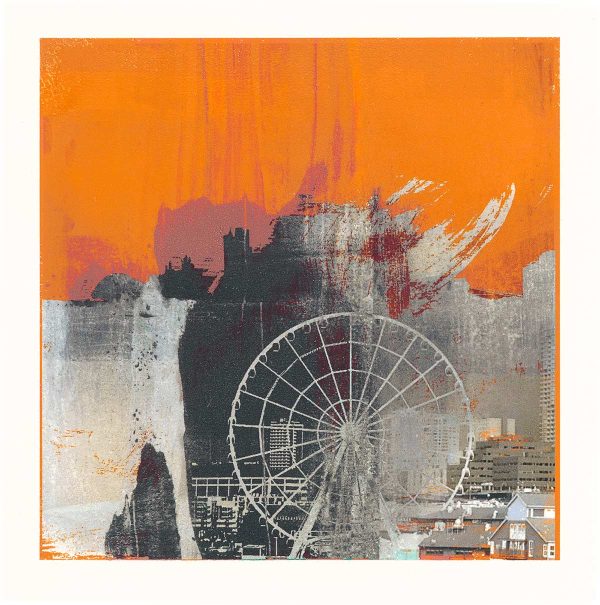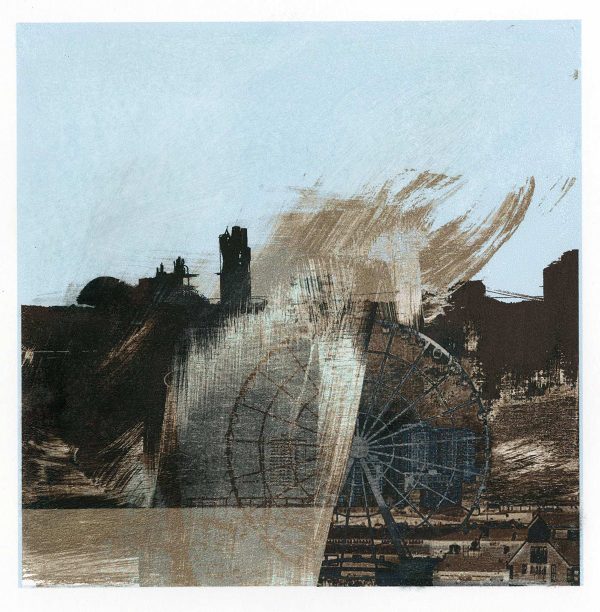 There are those who think The Wheel is a tourist thing. I think it's pretty much a cosmic totem, and if you happen to go on it for the first time at sunset accidentally on prom night you will agree with me. Its effect extends in a vast radius around it. Winter Solstice two years ago its neon glow on a window brought three strangers together at a bar for a conversation I will never forget. Icons are iconic for a reason.

These three transfer prints above show the Wheel in varieties of weather and mood, in the perennially damp and atmospheric skies of the Seattle waterfront. This is a transfer print, a unique monoprint created from my own photography and digital collage, hand-burnished and transferred through a gel alcohol process to a sheet of rag watercolor paper. The irregular edges are a part of the process and echo the shape of a lithographic stone. The surface of a transfer print is granular and unpredictable. Each print is unique, with different surface qualities. These 10 x 10" prints will be at my studio sale December 4th, $315 each.
"Glimpse" will be hard to part with. It is from "Excavations: The Big Dig and Other Stories," shown at Zeitgeist just before the Alaska Way Viaduct came down. This was my most experimental image in the series. It captures everything I love about the Northwest and its dreamy skies. Like the others in this series the starting point came from photographs taken on the viaduct from a moving car.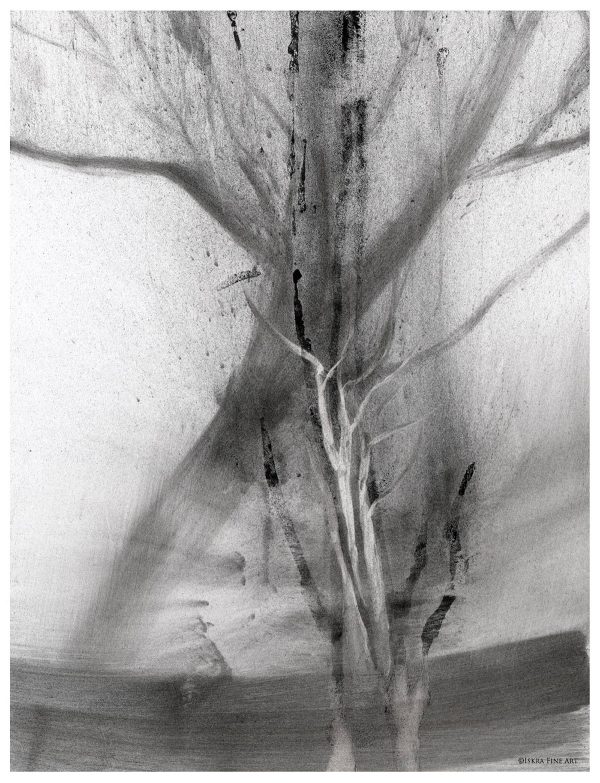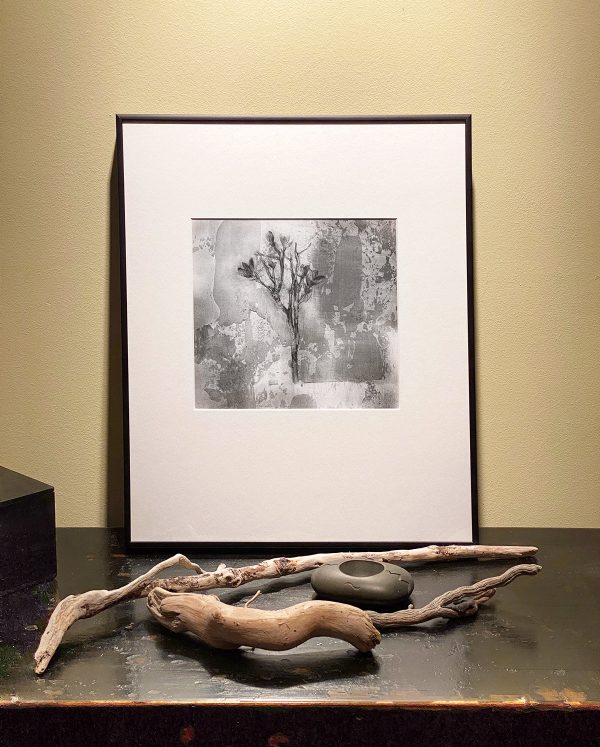 A few drawings remain from the series Drawings in Dust. As they are framed in glass I do not ship them and they are only available locally from my studio. Above, Winter Park, and Persian Magnolia.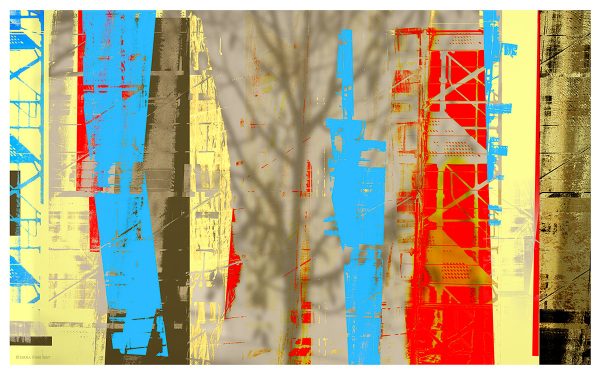 View Corridor II is the very last piece I have done this year, a new digital composition that continues a thought I had several years ago that became my most collected print ever about the city. I am fascinated by the state of mind of walking in the city, when your vision is fractured by reflections and towers and shadows, the rare echoes of nature, the clang of construction and the soaring blues of escape glimpsed in between. It is a state of exhilaration and possibility and collage seems like the ideal way to capture it.
I've missed everybody these long two years! Come by and say hello. (And for people who have been interested in larger pieces but limited by budget, there will be a few surprise steals of older work that no longer fits my current framing style…) If you collect something for yourself or a friend terrific, if not just come and see what I've been up to and tell me what you've done in the 18…19…20 months since I've seen you.
Happy holidays!
Iskra