As August fades the light changes from amber to cooler colors. A recent visit to Whidbey Island and my favorite muse of land and sea, Ebey's Landing, inspired this new print, "Passage."
Sometimes a certain vista feels eternal. Seasons may alter the colors, as well as the winds and the taste of the salt, but the silence that holds it all remains constant. The official name of the Northwest's main waterway is "Puget Sound," but those who live here just call it the Sound. You will know why if you climb the bluff at Ebey's Landing and stand there for awhile on a hot summer's day. Give yourself enough time to settle into the golden grass, and let at least two ships go by. Then walk back along the beach and don't leave until every pocket is full of warm stones.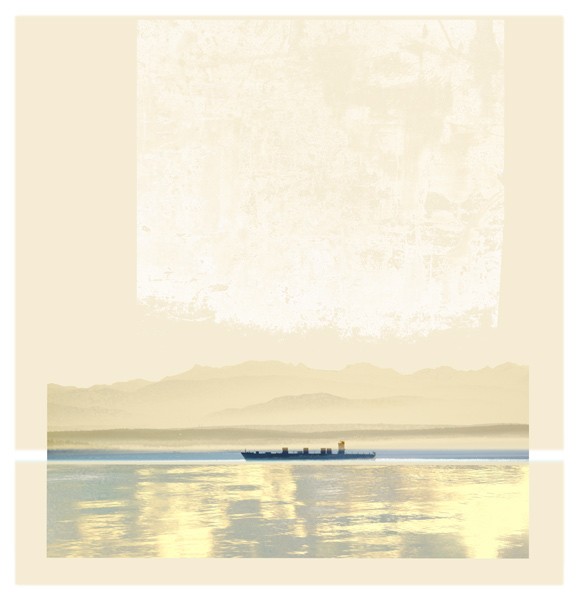 Both of these prints explore the aesthetic of traditional Japanese woodblock, approached from a modern perspective, using digital photography and printmaking. I am thinking about rice paper, and pale inks from porcelain bowls, and the colors of silk on old kimonos. In Yoshitoshi's day, and in the time when Ebey's Landing got its name, the world was roiled by mayhem and violence. Oh wait, and that might be true as well today . . . When there is a moment of peace, I'll take it, and keep it with me.
"Passage" and other prints from The Floating World, Construction|Reconstruction and Infrastructure, are available at SAM Gallery. If you are interested in a studio visit to see other work I can be contacted here. A previous post tells the story of the Floating World and my muse, Yoshitoshi.